Niecy Nash And Jessica Betts Make History As First Same-Sex Couple To Cover ESSENCE
The issue celebrates breakthrough moments of powerful women.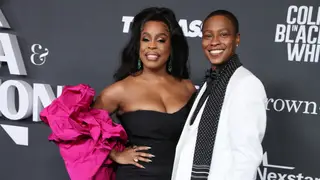 For the March/April 2022 issue of ESSENCE, Emmy award-winning actress Niecy Nash and singer Jessica Betts are making history as they become the first same sex couple to be featured on the publication's cover.
The pair, who were married in September 2020, speak with writer Demetria Lucas about what they love about each other, the public's response to their marriage and more.
"The least of my attraction is gender…What I was and am still attracted to is Jessica's soul. She was the most beautiful soul I had ever met in my life," said Nash about Betts in the cover story. "Now that I've experienced it, I can't imagine going through life without it…"
In regards to their famous marriage reveal, Nash said people were in complete disbelief.
"A lot of people thought it was like a movie or some promo," Niecy recalled. "They started calling everybody, and we were like, 'This is insane.' I never knew why where you lay your head is such a big deal to other people. I was like, 'People care?'"
Betts added: "She was really shocked. I knew there was going to be some banter around it. But I didn't know that it was literally going to"—Niecy chimes in with her wife, and they complete the sentence together, something they do a lot—"break the Internet!"
The ESSENCE cover features the couple nude and in an embrace.
"Honoring breakthrough moments is a powerful theme in our March/April issue. Since Niecy Nash and Jessica Betts' surprise announcement that they were married in 2020, they have become a model of what a relationship can be when you love unapologetically," said ESSENCE Deputy Editor Cori Murray, according to EurWeb. "We celebrate the Bettses as the first same-sex couple to make the cover of ESSENCE. Their union serves as evidence that true love can blossom in unexpected places, if you're brave enough to embrace it."
ESSENCE's March/April issue is slated to hit newsstands on March 1.