Cynthia Erivo's 'Harriet' To Open The 2019 Urbanworld Film Festival
The annual showcase will host anticipated premieres, including BET's and Tyler Perry Studios' 'First Wives Club.'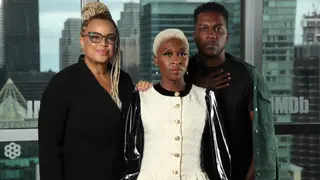 The 23rd Annual Urbanworld Film Festival, along with its founding partner HBO, announced its spotlight slate, highlighting content from around the globe by creators of color and women. 
BET Networks and Tyler Perry Studios will debut First Wives Club, one of their first series released through the new BET Plus video-on-demand service.
"Each year we strive to expand our programming slate to expose stories, themes, and characters that have been under-represented in our world. This year is no exception," said Gabrielle Glore, Urbanworld Film Festival Festival Director & Head of Programming. "What is most exciting to see is the continued elevation of quality manifested across our content creators' work, as we celebrate their creativity and craft."
Focus Features' Harriet, the inspiring biopic of the life Harriett Tubman starring Tony Award winner Cynthia Erivo, is confirmed as the opening night's debut film. 
"I'm thrilled to share Harriet with the Urbanworld Film Festival audience. The experience of creating this film was life-changing for me in so many ways," blushed Kasi Lemmons in a press release. "We are honored to open this festival and look forward to discussing our journey with such a passionate group of film lovers." 
Lemmons will also serve as this year's festival ambassador. 
Veteran author and cultural filmmaker Nelson George will also debut his documentary A Great Day in Hip Hop, which centers around Gordon Parks' legendary photoshoot gathering over 150 artists in front of the same building as the Jazz greats in Harlem.
Urbanworld 2019 will also debut Just Mercy, starring Michael B. Jordan and Jamie Foxx, and The Apollo, Roger Ross Williams' acclaimed documentary chronicling the unique history and contemporary legacy of the Harlem mainstay. 
Manhattan will host the festival from September 18 - September 22.