Who's The G.O.A.T. Rap Crew? Here's A Recap Of Round 1
In the tournament to decide the greatest rap crew of all time, Round 1 had some noteworthy highlights.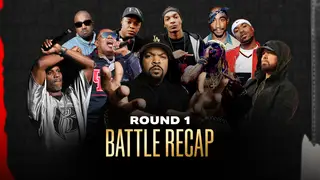 In recognition of hip hop's 50th anniversary, BET Digital, in partnership with Ambrosia For Heads, is celebrating the culture by hosting a bracket-style competition that allows you to determine hip hop's greatest crew.
Rather than having "experts" tell you who is the greatest of all time, this is your opportunity to collectively make that decision. After giving the opportunity to any and all fans to provide feedback on which crews should be included, 32 collectives from different regions, styles, and generations have been selected—all vying for that #1 spot. When the final battle is over and the last vote is cast, you will have determined who is your Greatest Rap Crew of All Time.
The Greatest Rap Crew of All Time launched with 32 collectives. After an exciting Round 1, the competition is down to 16 crews.
In this celebration of hip hop and all of its talented crews, your vote decides the winner, so GO VOTE NOW  for your all-time favorite.
The East Coast Battles
The East Coast bracket kicked off the tournament. Wu-Tang defeated Dreamville, while the Juice Crew won against the Native Tongues. In both of these cases, the senior crew prevailed. With collaborative histories and reports that Wu lyricist GZA was once offered a spot in the Juice Crew, there is context to this Round 2 matchup. The other Round 2 East Coast bout is G-Unit versus the Ruff Ryders. During Round 1, the Double-R crew beat the Bad Boy Family, removing Biggie Smalls, Diddy, Ma$e, and others from the tournament. Similarly, G-Unit knocked Roc-A-Fella out of the bracket. While 50 Cent and JAY-Z had a real-life rivalry during the 2000s (amid collaborations), this outcome removes Jay, Kanye West, Dipset, and State Property from the tournament after the first round. The East Coast winners and losers are a testament to stiff competition.
The Midwest Battles
That excitement existed in the Midwest too. The Memphis matchup of Hypnotize Minds and Yo Gotti's CMG landed with Three 6 Mafia's crew advancing. The Soulquarians bested Griselda. Soulquarians and Hypnotize, two collectives featuring Oscar gold on both sides, now face off. G.O.O.D. Music defeated St. Lunatics while Shady took out Bone Thugs in one of the tightest margins of any Round 1 matchup. Now, Kanye West's crew squares up against Eminem's squad amid a history of collaborations, especially surrounding Big Sean, Em, and Royce 5'9".
The West Coast Battles
The Dirty South Battles
The last Round 1 outcomes were in the Dirty South. The Dungeon Family was victorious against Maybach Music Group in another tight race in the first round. Now, DF takes on fellow Atlanta crew So So Def, who moved past Quality Control. In both of these outcomes, the veteran crews prevailed. No Limit soldiered on against Rap-A-Lot. In one of the most anticipated Round 2 matchups, Master P's squad meets YMCMB—a symbolic competition for longtime New Orleans rivals. The Young Money Cash Money Billionaires defeated Grand Hustle to advance.
Round 2 promises more excitement, engagement, and energetic debate across social media.
---
EDITOR's NOTE: Register for the sweepstakes for a chance to win the grand prize of (2) two tickets to the 2023 BET Awards,(2) two round-trip airline tickets, and a 2-night hotel stay on June 25. Up your chances to win by voting weekly.
NO PURCHASE NECESSARY TO ENTER OR WIN. VOID OUTSIDE OF THE 50 U.S. & D.C. AND WHERE PROHIBITED BY LAW. Open to legal residents of the 50 U.S. & D.C. who are 18 years of age or older at the time of entry. Ends at 12:00 p.m. ET on June 9, 2023. Official Rules: bet.com/grcoat-official-rules. Sponsor: Black Entertainment Television.