Future's Rumored Flame Got Caught With Trey Songz, And He Has A Hilariously Petty Message For Her
Yet, some fans are rushing to check on Meek Mill.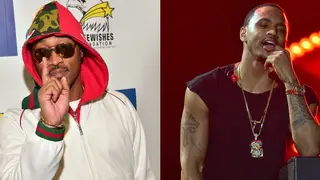 Lately, Future being petty petty about his plethora of conquests has fans in shambles. He went from shady to comical and has yet to put his phone down to pause the antics. It was rumored that he had a brief stint with Steve Harvey's 21-year-old daughter, Lori, and she's been showing out in these California streets. Earlier this month, Meek Mill revealed she's on his "wishlist" on his track "Going Bad," feat. Drake, and just yesterday, she was seen out shopping with R&B crooner Trey Songz. 
Fans wouldn't be trolling the model had she not ducked out of the paparazzi pictures.
The weird part is that last time we heard, sis was engaged to Dutch professional footballer Memphis Depay.

Someone had to break the unfortunate news to Meek Mill...

No worries, though. The namedrop could've been anybody, he said in an interview with The Breakfast Club. "I seen Lori Harvey along with a list of thousands of other pretty as girls on Instagram and she was the name I came up [with]. I don't got like a personal crush on her. This is music," but his sentiments didn't stop anyone from bringing him along for the comical ride.

Memphis pulled up to the party with a few of his own shady comments

As far as Fewtch is concerned, he feels she "ducked too late."

"I see you. I like that," stated the "Low Life" emcee, along with his newly coined slogan, "It's cute. Keep it up."

Since the start of this year, Memphis and Lori haven't been flaunting their relationship like they used to, so it's safe to assume the engagement has been off. We wonder what her Act Like a Lady, Think Like a Man father has to say about this.

See Fewtch's full response below.