Erin Jackson Makes History, 1st Black Woman To Win Speed Skating Medal At Winter Olympics
Her win was the first medal for a U.S. speedskater in Beijing and she became the first African American to medal in her sport.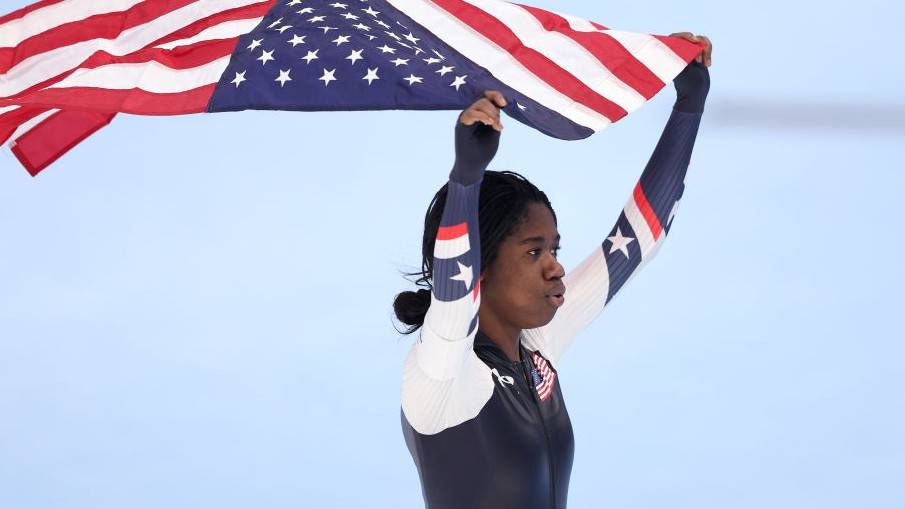 United States speed skater Erin Jackson has become the first Black woman to ever medal in the sport. She is also the first American to do so since 1994, according to ESPN.
On Sunday (Feb. 13), the 29-year-old Florida native made history as she clocked her lap at 37.04 seconds in the women's 500-meter speed skating event at the Beijing Games, according to NBC Olympics.
Jackson is the world's top-ranked 500 meter skater. She has been an inline skater since age 10, however, there is no Olympic competition for roller derby. In 2017, she pivoted to speedskating and placed 24th in the 500m at the 2018 PyeongChang games.
She was all smiles as she finished her lap. But she was overcome with emotion after finding out she won gold, celebrating by lifting the American flag overhead during a victory lap.
In November, Jackson became the first Black American woman to win a speed skating World Cup title. She took home first place in the women's 500m race in Tomaszów Mazowiecki, Poland.
According to NBC Olympics, Jackson technically didn't qualify for the 2022 Olympics, after a stumble at the U.S. Trials that caused her to finish in third. Only the top two skaters qualify for the Olympics.
But luckily for Jackson, teammate Brittany Bowe, who placed first in the Trials, gave up her spot to Jackson out of "the spirit of the Olympics." Bowe said her best chances of winning a medal are in the 1000m and 1500m. She said Jackson "earned the right" to be in the Olympics.
"Sure, I had a really great session," Jackson said. "But when it came to crunch time, I made a mistake. I am very fortunate that she is a very selfless person and she would do something like this for me."
The silver went to Miho Takagi of Japan, while Angelina Golikova of the Russian team took the bronze, according to CBS.