Chuck D Set To Debut Hip Hop Docuseries With PBS.
The four-part docuseries is set to premiere in Jan. 2023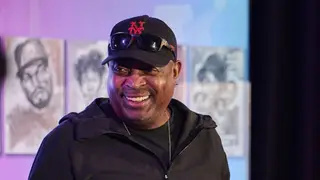 Legendary rapper Chuck D is ready to showcase Hip Hop's story as he joined forces with PBS to bring a four-part docuseries called Fight The Power: How Hip Hop Changed The World.
According to the press release, the documentary will feature firsthand accounts from the culture's most prominent and brightest stars, including Ice-T, Fat Joe, Run DMC, MC Lyte, will.i.am., Lupe Fiasco, and others. It will unpack how Hip-Hop grew into the voice of America's counterculture.
"The hip hop community has, from the start, been doing what the rest of media is only now catching up to," the Public Enemy rapper said.
"Long before any conglomerate realized it was time to wake up, hip hop had been speaking out and telling truths. Working with PBS and BBC is an opportunity to deliver these messages through new ways and help explain hip hop's place in history and hopefully inspire us all to take it further."
The rapper also developed the series with his manager Lorrie Boula, BBC Studios for PBS, and BBC Music. It is set to premiere on all station-branded PBS platforms, including PBS.org and the PBS Video app, on Jan. 31, 2023.