Key Obama Aide Bids Farewell to the West Wing and Hello to Life
Domestic Policy Advisor Melody Barnes, who steps down in January after three years working closely with President Obama, reflects on her service in the White House.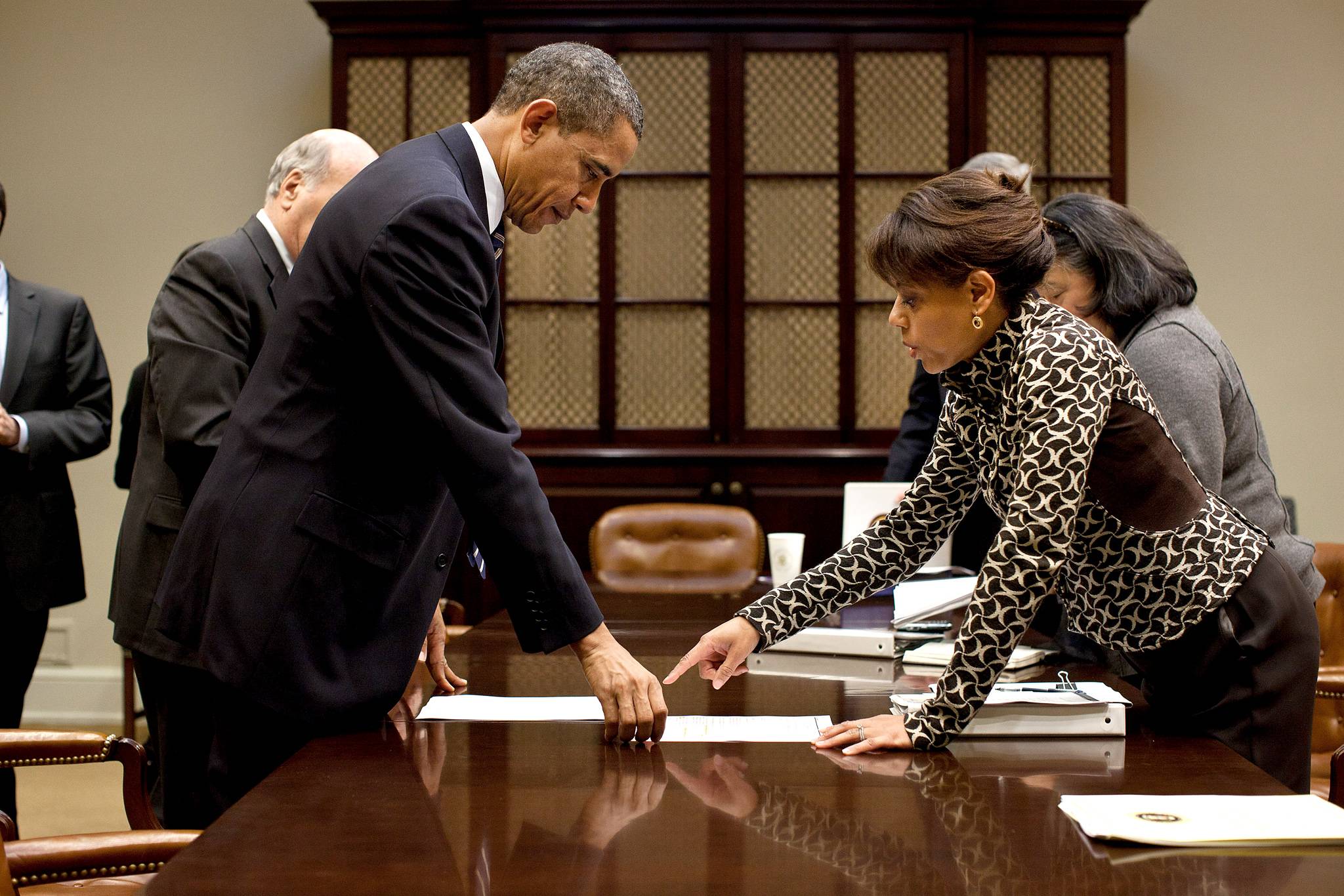 Imagine having close, personal contact with the leader of the free world and calling the White House your home away from home. For White House Domestic Policy Advisor Melody Barnes, that's just another day at the office. But those grueling 14-hour days will soon be a distant memory as she steps down from her post as one of President Obama's most trusted insiders. 
Barnes held an intimate roundtable with four reporters at the White House on Wednesday to trumpet the president's domestic policy framework and reveal what she could about her prospects for the future.
Barnes recalled the early days of the administration, when an energetic, eager team of visionaries, fresh off a historic victory, settled into their comfy posts. Yet, in a scenario no one anticipated just months earlier, Team Obama was greeted with an economic firestorm — a banking industry on life support, a dismal housing market, an ailing auto industry and an unemployment rate escalating rapidly.

"We were basically trying to fly the plane and build it at the same time. We were looking at the Recovery Act, and saving the auto industry. The President was thinking through health care reform. It all hit us at the same time," said Barnes.
But with an economy that continues to whimper along and a public that expresses deep frustration over the rate of progress, Barnes' office has found itself in a difficult position. 
"You can't say we've turned everything around, but you can say we've stopped the hemorrhaging. We've turned the ship around a bit with a focus on jobs, innovation, research and development. We are on our way," she said.
I wondered if there was ever a point during her tenure when she felt completely overwhelmed or found that a challenge ahead was just too daunting. 
"The strange thing about working here is that you start to think that this is normal," Barnes replied. "There's a non-stop relentlessness to the work and it's always complicated. By the time things reached my desk, it's already a crisis. It's already like 'Uh oh' but I feel it's our job to figure it out."
She spoke about the jobs situation and how the administration has tried to serve as a bridge until the private sector rebounds. "It's interesting, because it's all mixed in with the housing market and the banking industry and complicated partisan issues and limitations on exactly what it is that the executive branch can actually do. All this is very difficult," Barnes said.
Complicating matters over the last three years has been criticism from Black leaders who questioned how attentive the White House has been to the needs of their community. But in recent months there's been a noticeable shift, as the administration makes strides to improve communication, sponsoring its first-ever African-American policy forum and issuing a report detailing how the administration's policies impact the Black community.
"We were being responsive to what we were hearing. One of the things we heard is that it would be helpful to see all the strides we'd made all together, in one place. That's how our Pathways to Opportunity Report came about," said Barnes. "Three years in, we have a full basket, to show people 'this is what we've done.'" 
As for exactly how Barnes plans to spend her new-found free time once she leaves, she says she'll take a few months off and decompress. "I made a promise to the president that I would not announce what I'm doing next until I get some rest," she said.
This will likely be welcome news to Barnes' family.
"I got married six months after I came to the White House. My husband will tell you that I've cooked three times in three years. He's been incredibly patient, but I want to be the kind of wife that is supportive of him. And I also want to spend time with my parents. You don't get those years back," said Barnes.
Barnes calls working for President Obama the opportunity of a lifetime, but adds, "Over the last several months, I've reached the conclusion that I need to move out of a 24/7 work schedule and on to the next phase of my life."
That next phase begins on her last day, January 3. "I can't wait to turn my Blackberry in," she said.
BET Politics - Your source for the latest news, photos, and videos illuminating key issues and personalities in African-American political life, plus commentary from some of our liveliest voices.
(Photo: Office White House Photo by Pete Souza)