Orlando Brown Reveals He Has 'Quite A Bit' Of Children, But Cannot Remember Their Ages And Names
The "That's So Raven" star told Dr. Phil that he hasn't even met a few of them.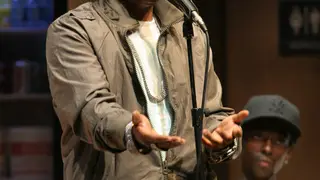 Former child star Orlando Brown's recent interview with Dr. Phil McGraw saw him reveal a few details about his life that many would have never guessed would have been the actor's chosen path.
Among the most jarring, however, was his revelation that, among his many children, he had not met a couple of them and could not recall their ages or names.
During the one-on-one sit-down interview, the That's So Raven star shared that he had "quite a bit" of children, before revealing that he had four kids that he was aware of but could not quite remember their ages.
After initially telling Dr. Phil that his kids were 2, 5, 11, and "like, 16 to 18," he changed his tune, telling the host later on in the interview, "I got a 2-year-old, 4-year-old... 5-year-old, 8 and 11." He added another surprising detail to the mix by mentioning, "[The] 2-year-old still in the belly. We don't know [the name] yet."
The actor also confessed that he, at the time of speaking, was yet to physically meet all of his children and had no idea what his eldest child's name was.
Elsewhere in the troubling interview, which was taped in October, Brown admitted that he had struggled with drug and alcohol addiction for some time, resorting to marijuana and crystal meth to self-medicate, in the past.
"Just the influence and the demons that come with that drug kind of took over," he said.
Watch him detail the unfortunate experience in the clip, below: