25 Of The Most Influential People In Sneakers
Sneakerheads who are killing the shoe game.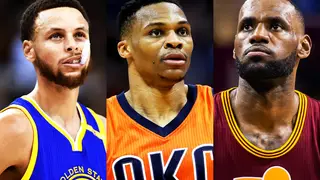 Since Run-DMC raised their Adidas Superstar's to Madison Square Garden's ceiling and had thousands of fans do the same, the power and influence of hip-hop within the sneaker world was cemented in the industry. Around this same time, a 22-year-old with Park Avenue looks and Brooklyn attitude by the name of Michael Jordan was changing the game by walking on Air.
The following three decades would be a collision of sports, entertainment and self-expression that would create the sneaker culture as we know it today. From runways, to museums, from Portland to Paris, the sneaker industry has gracefully turned into a billion dollar business, one that's been influenced and shaped by Black culture every step of the way.
With Portland, which houses Nike's World HQ, Adidas North American headquarters and a new Under Armour campus, recently hosting its first ever Sneaker Week (a celebration of sneaker culture, created by a predominately Black group of industry insiders and sneakerheads), we decided to take a look at the Black figures shaping the industry today. In no particular order, here is who is killing the sneaker game. 
Steph Curry

Steph Curry is a two-time NBA champion and a two-time NBA MVP, both of which no one would've guessed would be his fate coming out of high school or even college. But even more surprising, and potentially more impressive, Steph cemented his place as a footwear industry giant by outselling every other signature athlete in 2016 and finishing third behind Kyrie Irving and LeBron James in 2017. 

James Harden

James Harden: The beard you know, the shoe you should know too. The Houston Rockets' leading man had the fifth highest selling shoe of 2017. Look for Adidas to make an even bigger push design-wise for the NBA MVP candidate in the upcoming season. 

Russell Westbrook

Michael Jordan has been looking for a player to carry his signature line for a long time. Russell Westbrook, with his sense of style, competitive attitude and love of the game is the mix of old and new that Jordan brand has needed since MJ hung them up for good. With Jordan's newest styles being modernized while giving a homage to Jordan's past, and with Westbrook slated to receive his first on-court signature shoe, the reigning NBA MVP should soon fly with the best of them in the sneaker game, too.  

Kyrie Irving

Kyrie Irving left the Cleveland Cavaliers, a team that pretty much guaranteed him another NBA Finals appearance, to work on building his own legacy on his own terms with the Boston Celtics. But Uncle Drew has been cementing his stamp in the footwear game, with his Kyrie 3 signature shoe claiming the best performance shoe title in the market for Q3 for Nike. The man can stand on his own, and you can stand in his shoes. 

JR Duperrier

If you're looking closely, you'll catch JR Duperrier next to all of Adidas' signature athletes like Andrew Wiggins, Dame Lillard and James Harden. But what you don't see is him working to make the connections that will help move adidas basketball to the level of its sportswear counterparts. Essentially, he makes the moves to make the athletes believe in that Three Stripe life. 

LeBron James

LeBron James came into the shoe game as the 90-million dollar boy in 2003 for Nike. Now, he's the lifetime billion-dollar man in front of the brand. King James has the highest selling signature shoe amongst all active players and has made upwards of $300 Million for The Swoosh every year since 2013. King-ish only. 

Kobe Bryant

Kobe Bryant called it quits with an unforgettable performance at home for his final game in 2016, but his legacy lives on. In a recent poll, more athletes in the NBA wear his signature shoes than any other athlete. Yes, more than Michael Jordan, more than LeBron, Kyrie or KD. The Black Mamba won't be making a comeback, but his sneaker legacy lives on. 

D'Wayne Edwards

The Founder of Pensole Footwear Design Academy, D'Wayne Edwards, set out to start the first footwear design academy in the world called Pensole. Located in Portland, Oregon, Pensole has helped launch the careers of designers at Nike, Adidas and other leading brands behind Edwards' vision and tutelage. 

Michael Jordan

Michael Jordan is the living, breathing blueprint for athletes when it comes to growing businesses through branding opportunities. Simply put, he's a businessman and a business, man. One of the few athletes to hit the billionaire boys club, MJ's shoes constantly cause the masses to camp out, lineup and search online for the new hotness - damn near 15 years since he last took a jumper. That's real power. 

Don C

Even though it's origins are draped in luxury, having first been made in Italy, Chicago's Don C gave the Air Jordan II a modernized premium look with his plush colorways and fashion forward aesthetic. Adding the same reimaginitive flare for his Just Don line, Don C's quilted varsity blue and arctic orange pairs are still priced in the thousands for most resellers. 

Serena Williams

Serena Williams' campaign as the greatest athlete ever isn't farfetched: 39 Grand Slam titles; 23 singles titles. Stretching her brand beyond the court for the brand, Serena's also been blessed with commemorative Air Jordan 1 inspired signature and leads Nike Sportswear campaigns. 

Jordan Dinwiddie

Working for the ad agency that introduced Mars Blackmon and Michael Jordan as a pair and taught us what Bo (Jackson) Knows is only a pressure situation if you're not fit to handle it. But for Jordan Dinwiddie, the go-to girl who writes commercials and campaigns for Nike's best athletes like Kyrie Irving and LeBron James (see Come out of Nowhere) carrying the creative torch is second nature at this point. 

Odell Beckham Jr.

Everything changed for Odell Beckham Jr. since that one-handed catch in 2014. Three Pro Bowls later, OBJ is now the leading face for Nike Football after signing a 5-year deal (reportedly) worth more than $29 Million. 

Reggie Saunders

For well over a decade, Reggie Saunders has been the brand identifier for who in Hollywood and entertainment outside of sport fits the Jordan brand family persona. For the who's who of A-List celebrities like Jay Z, Drake and Mark Wahlberg (Saunders even made an appearance in the Entourage Movie), he was the plug before being the plug was a trendy term. 

Trevor Edwards

Spearheading the charge for Nike Brand into the digital era, Trevor Edwards leads the direction on all categories, the Jordan Brand, action sports, e-commerce and more. Regarded as next in line for the CEO spot, Edwards has played a major role in shaping The Swoosh since joining as a Regional Manager in 1992.  

Kanye West

Kanye West called it. Yeezy actually jumped over the Jumpman – in sales, in 2017. Aside from having his own line and utilizing the ultra-comfy Boost in his releases, Kanye has made a statement: he's going to be relevant in the sneaker industry for a long time.   

Pharrell Williams

Where Kanye West has been more vocal about his accession to the top of sneaker culture, Pharrell Williams' color choices have been a bit more loud. The Adidas Originals Tennis Hu collection features bold bright colors, much like we'd expect from the veteran sneakerhead/designer. 

Larry Miller

Much like the man the brand is named for, Larry Miller has made impactful comebacks to the game. Miller's first run as the president of Jordan Brand was from 1999 to 2006, but he left to become president of the Portland Trail Blazers. Since returning as president in 2012, Miller's been the major key for Jordan Brand's success and growth. 

Rihanna

After joining Puma 2014, Rihanna boosted the company's sales immediately by 4% with steady increases every year since. Fast forward to just three years later, and the Fenty x Puma Creeper was voted best shoe of the year by Footwear News and Puma can't keep anything RiRi related on its shelves. 

Drake

Sure Drake made a song called Jumpan with Future, but his shoes and impact on sneaker culture go way beyond the catchy collaborated tune. Once Kanye and Nike parted ways, the lane was set for Aubrey to be the next cultural icon to step in. The OVO x Jordan releases have been some of the most coveted in recent years and have given new energy to the more forgotten silhouettes (see the OVO Jordan X's).  

Virgil Abloh

Is anyone that surprised that Virgil Abloh was the talk of the recent Paris Fashion Week? Considering his place in the fashion world, no. Not really. But that his Ten Nike Icons deconstructed collaboration and his "Off-Campus" pop-up was the most talked about event spoke volumes for him and was a big win for Nike.   

DJ Clark Kent

From collaborations with Nike at 21 Mercer to his own sneaker themed show at Complex, DJ Clark Kent is the epitome of the sneaker culture influencer. He's not only worked with brands, but also laid the blue print for how to make brands understand the value if working with those connected to the culture. 

A$AP Rocky

A$AP Rocky has been the face of Dior, collaborated on kicks with Jeremy Scott and most recently set the internet ablaze with with his Balenciaga Triple S IG posts. All seemingly ordinary for the swaggy Harlemite, but the hardest job in footwear lies ahead for him: getting people to rock casually Under Armour. Rocky's slated to help reset UAS which is their sportswear line. A tough challenge for anyone, but lets see what Pretty Flacko can do for the Maryland based brand.

Frank Cooke

What happens when you mix a cultural connector and Jordan Brand historian who's obsessed with detail? You get Frank Cooke, who helps drive the energy marketing machine at Jordan Brand. Cooke has a handle on everything from brand moments moments that need to be acknowledged (via retro or activation) to making partnerships that make sense. Essentially, he understands how ride and create a wave. 

Jason Mayden

Jason Mayden made his name in the industry with more than a decade as a key cog driving Jordan Brand's lead design director – responsible for everything from athlete logos to footwear designs themselves. But the the Chicago native's now taking on the world of play with his Super Heroic line, geared towards getting kids to play. The shoes are made for running, jumping and climbing activities and come with a cape to encourage and enhance physical play.