Erika Alexander Reprises Her Role As Maxine Shaw To Endorse Ketanji Brown Jackson
The Supreme Court candidate is expected to be confirmed on Monday afternoon.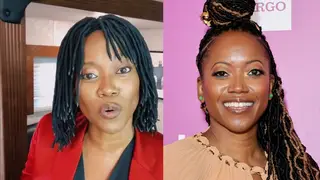 Over the weekend, Living Single alum Erika Alexander decided to show her support to Jackson by reprising her role as no-nonsense lawyer Maxine. In the funny one-minute clip, you see Alexander in character endorsing the potential Supreme Court Justice inductee, ending the tidbit by stamping her approval.
"I am Maxine Shaw, attorney at law, and I endorse Ketanji Brown Jackson for Supreme Court Justice," said the actress.
Ketanji is set to find out if she will be sworn in on Monday afternoon as the Senate Judiciary Committee will submit their votes to determine if she will join the Supreme Court Justice. If confirmed, she will make history as the first Black woman to serve on the United States Supreme Court.