Ciara Lifts Her Voice for Nigeria
See her sweet message for the young people of Nigeria.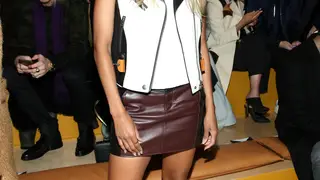 Ciara is known for spreading joy through her chart-topping music, and she took that power a little further while visiting Nigeria recently. The "I Bet" singer was in the country to perform a special concert and took some time out to greet school children in Lagos state.
CiCi was all smiles as she posed for selfies, hugged and sang songs with the primary school children, sharing her experience on her Instagram page.
"When I look in their eyes. I see depth, courage, life, love, character, a future doctor, a future lawyer,  a future scientist, a future leader, a future mom, a future dad. The future. When I hold their hands, I feel the sweetest love. Grateful," she wrote in one post. In another, she smiled brightly and recited an inspirational message alongside the kids: "I believe in my dream and no one's going to stop me from achieving my dream."
The singer's visit was surely a bright spot for the Nigerian people amid a time of political unrest. Several weeks ago, the terrorist group Boko Haram attacked three refugee camps and allegedly burned 86 people alive, many of them children, according to reports.
BET.com always gives you the latest fashion and beauty trends, tips and news. We are committed to bringing you the best of Black lifestyle and celebrity culture.
 (Photo: Monica Schipper/Getty Images for Coach)