Nine-Year-Old Child Prodigy Makes History By Graduating From Online High School
David Balogun's parents are already looking into colleges.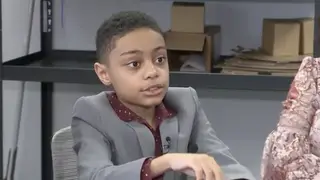 A nine-year-old from Pennsylvania is already graduating from high school.
David Balogun, who has a passion for science and computer programming, will receive his diploma from Reach Cyber Charter School after taking classes remotely. He is the youngest person to graduate from the charter school. The aspiring astrophysicist has already completed a semester at Bucks County Community College and his parents are now eying colleges and universities across the country.
Entering Reach Cyber Charter School in the third grade, David told WPMT, "I realized that I [was] able to graduate at the age of ten or nine as long as I put the effort in, and with the help of my mom, dad and, of course, Reach Cyber Charter School I was able to graduate."
Ronya Balogun, David's mother, said, "He's a 9-year-old with a brain that just has the capacity to understand and comprehend a lot of concepts that's beyond his years and sometimes beyond my understanding."
CEO of Reach Cyber Charter School Jane Swan said "One of the important things in our charter is we have accelerated pacing. So, kids can go year-round and if they're very smart and on-track and motivated like David, they can move ahead at their own individual pace."
David Balogun will receive his high school diploma in June.