Brandy Responds To Her Brother Ray J Getting Her Face Tattooed On His Leg!
See the entertainer's new ink by tattoo artist Alexey "MASHKOW" Mashkov.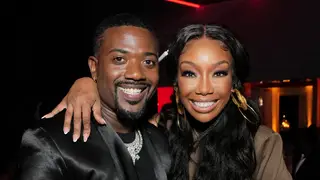 Ray J and Brandy have an unbreakable bond! To celebrate their strong brother-sister relationship, Ray J recently commissioned tattoo artist Alexey "MASHKOW" Mashkov to ink an artistic portrait of his sister's face onto his leg.
"FULL LEG TATT — I had to start with my best friend," he happily captioned the big reveal on Instagram.
Seemingly impressed by the artsy tribute, Brandy responded to the IG post with a row of heart emojis and the word, "Brooooooo."
Last year, Brandy seemed equally impressed when her brother tattooed her name on his arm with a font that paid tribute to her 1994 self-titled debut album. The singer shared via Instagram, "This is real love. I couldn't have asked for a better brother. I love you @rayj."
According to Ray J, this is just one installment of his leg artwork. The recording artist explained in the caption of his video that he intends to get his whole leg tattooed with "MUSIC- LOVE - SCRIPTURES - THE VOCAL BIBLE - FAMILY - GHOSTS - POSITIVE WORDS AND THEMES - REAL GOTHIC LIKE."
In his words, fans can expect to see "THE HOLY LEG" in the near future.
"GONNA TAKE A MINUTE!! But I got the best doing it!! STAY TUNED," he teased.
We definitely look forward to seeing the finished results.