Report: Rosario Dawson Found Her Cousin Dead in Her Home
So sad.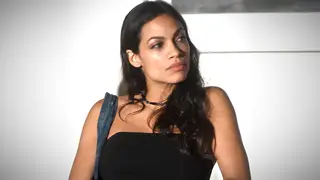 Rosario Dawson recently found her 26-year-old cousin dead in her home after discovering she was unconscious just last week.
According to TMZ, law enforcement sources revealed that the Luke Cage actress walked downstairs in her Venice, California, home last Thursday to find Vanez Ines Vasquez lying in an unresponsive state.
After arriving to the scene, paramedics tried to resuscitate her, but to no avail.
Vasquez, who was also one of Dawson's employees, had reportedly been suffering from severe migraines and hypertension. The report states that the early autopsy reports show that she died of natural causes.
While toxicology reports are still pending, sources reveal that she had no history of substance abuse.
Both Dawson and Vasquez's family did not wish to comment on the tragic incident at this time.
We send our heartfelt condolences their way.
See how one of Dawson's most successful projects performed in the BET Breaks video, above.