Tiger Woods Shares His First Photo Since His Car Accident
The 45-year old is seen back on the golf course smiling and on crutches after sustaining major leg injuries.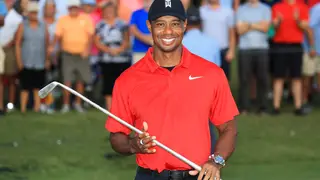 Tiger Woods is back on his feet after his car crash on Feb. 23, where he sustained severe injuries.
The golf icon recently posted his first photo on Instagram since the accident showing his right leg in a walking boot as he stands on crutches with his dog beside him.
"My course is coming along faster than I am. But it's nice to have a faithful rehab partner, man's best friend," Woods captioned the post.
According to Inside Edition, Woods was going 87 mph in a 45 mph zone before the crash. Surveillance video showed him speeding down the road when he clipped the median. He then went into oncoming lanes and rolled over several times, totaling his car.
Inside Edition reported that the cause of the severe accident was from "driving at a speed unsafe for road conditions and the inability to negotiate the curve of the roading," Los Angeles County Sheriff Villanueva said.
Woods endured severe leg injuries and underwent surgery.