Tyre Nichols' GoFundMe Reaches Over $1.2 Million
The 29-year-old died after being assaulted by Memphis police.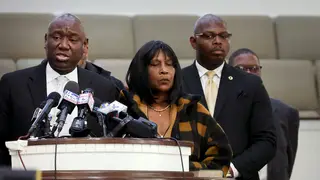 As the world continues to react to the recently released footage of 29-year-old Tyre Nichols being violently assaulted by five Memphis police officers, a GoFundMe page started by Nichols' mother has surpassed $1.2 million.
The page was launched just two days ago by Nichols' mother RowVaughn Wells. She created the page to raise money for mental health services for the Nichols family and to build a skatepark in her son's memory. She wrote on the page, "My baby was just trying to make it home to be safe in my arms. Tyre was unarmed, nonthreatening, and respectful to police during the entire encounter!"
On Jan. 7, Nichols was pulled over by Memphis police for reckless driving. According to authorities, the traffic stop led to a "confrontation" and Nichols fled the scene on foot as he was pursued by officers, which led to him being beaten by police. Nichols was only 100 yards away from his mother's home. He was taken into custody and complained of having shortness of breath.
Nichols died three days later (Jan. 10) in the hospital.
His family said the officers were in an unmarked vehicle when they pulled Nichols over. The family further alleges that he went into cardiac arrest and suffered kidney failure as a direct result of the officers beating him. Nichols' stepfather provided the media with a photo of a badly bruised Nichols in a hospital bed. His face was bloody and his eye was swollen shut.
On Jan. 20, five officers were fired after an internal investigation by the Memphis Police Department, according to NBC News. The officers were identified as Tadarrius Bean, Demetrius Haley, Emmitt Martin III, Desmond Mills Jr., and Justin Smith. They were also charged with the following: one count of second-degree murder, aggravated assault-acting in concert, two counts of aggravated kidnapping, two counts of official misconduct and one count of official oppression, according to the Memphis Commercial Appeal.
On Jan. 24, attorney representing the family Ben Crump reported that an independent autopsy found that Nichols died from "extensive bleeding caused by a severe beating." The Memphis Police Scorpion unit, some of whose members were seen in the footage, has been permanently disbanded. Memphis police chief CJ Davis made the decision Saturday, Jan. 27, saying a "cloud of dishonor" looms over the unit, The Associated Press reports. Scorpion stands for Street Crimes Operations to Restore Peace In Our Neighborhoods and has three teams of an estimated 30 officers. The unit has been inactive since Nichols' arrest on January 7.
Tyre Nichols was a father to a five-year-old son and worked for FedEx.