Monaleo Says Industry Is 'Easier' For Light-Skinned Female Rappers
The Houston rapper explains the historical nature of colorism that still impacts women today.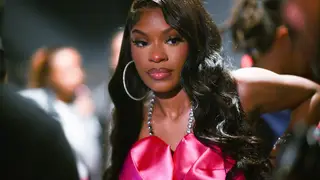 Houston rapper Monaleo, who broke out early in 2021 with her debut single, "Beating Down Ya Block," stopped by The Hollywood Groupchat Podcast to talk with Meghan James and Chadd Black about a variety of topics.
Social media users quickly circulated a clip from the show where the 21-year-old rapper tried to explain colorism to the hosts and how, in her opinion, it is easier for lighter-skinned women to succeed in the music industry.
The conversation had several stops and starts as James quickly tried to turn the table on Monaleo by claiming that she had been bullied by darker-skinned women throughout her life. She called it "reverse colorism." However, Monaleo was surgically precise in explaining how beauty standards are typically based on the white standard of beauty for women and that darker-skinned Black women do not fit that mold.
"Darker-skinned people experience a completely different experience than people who are light-skinned. And that is just like… the bottom line. And that is where the issue of colorism comes in for sure." she explained.
James, who frequently interrupted the conversation, then presented the idea that the issue is only prevalent among women and claimed that darker-skinned male rappers have it easier than light-skinned male rappers, specifically, Drake.
"That's like a cultural thing," Monaleo explained, "that's a cultural thing that we're doing recently. But as far as colorism, specifically, and colorism against Black women, specifically, that's something that dates back far beyond."
"As far as what women are doing, I'm not going to lie, it's easier for a light-skinned woman to make it as a rapper and to navigate the music industry." She then explained that she wouldn't consider herself "dark-skinned" but calls herself "right in the middle," and says that many dark-skinned female rappers are lyrical, have great visuals, and still struggle.
"You notice the pattern," Monaleo ultimately said.
Colorism in the music industry has been an ongoing topic for years. In the hip-hop industry, the question was reignited by the release of the song, "Yellow Bone," by DanniLeigh. "Said he need a lit bi**h, so he had to switch, switch," she sang in 2021. The song was ultimately panned by fans and her career has yet to recover. The lyrics were particularly messy when it was revealed that DanniLeigh was dating DaBaby--whose girlfriend at the time was darker-skinned. The couple later had a baby and very messy breakup.
Last year, Former Love and Hip Hop: Miami star Sukihana appeared on the Big Homies House podcast where she too addressed the issue. "I ain't gone lie. I'ma keep it real with y'all. I think the biggest obstacle is colorism, and I'ma just tell y'all the truth 'cause I would like to laugh and kiki with y'all, but colorism is one of the biggest obstacles that, not just myself, but a lot of women in this industry go through," the 30-year-old shared, according to Revolt.
She added that many people like to "ignore" the issue by claiming that it is not real. However, the star argued, "It does affect us, and that's not playing the victim role."
She continued, "People think when people cry about colorism, they play victim, but this sh*t is real. People will overlook you for somebody of a lighter color, a more slender nose, you know, a more European look." Adding, "She added, "There's a lot of doors that I've broken down. It's a lot of people that look up to me that look just like me, you feel me? So, I want to inspire my sisters and motivate them, so we all get this money."