#TheGreat28: Why The Obamas Chose Amy Sherald And Kehinde Wiley To Make American History
The artists' presidential portraits are the gifts that keep on giving.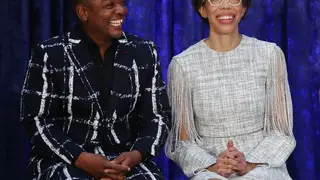 The unveiling of the former president and first lady's portraits continues to be the talk of the internet, not only for the artists' unique and signature aesthetics, but largely for what it represents for Black artists. 
Kehinde Wiley and Amy Sherald, who, respectively, created the beautiful paintings of president Barack Obama and first lady Michelle Obama, are the first Black artists to paint portraits for the National Portrait Gallery's president and first lady portrait commissions.
Sherald and Wiley, based in Baltimore and New York City, respectively, boast two vastly different artistic points of view, both relative to one another and the artists who have portrayed past presidents and first ladies. Unlike the more standard and traditionally formatted themes of paintings past, these two artists' latest work saw them refreshingly bring their authentic styles to the signature poise boasted by the former first couple.
When speaking on her piece depicting first lady Michelle Obama, Sherald explained the symbolism in the Milly gown she was wearing and how it represented a moment in Black history, for her.
"It reminded me of the Dutch artist Piet Mondrian's geometric paintings," she said, according to Forbes. "But Milly's dress also reminds me of the quilt masterpieces made by the women of Gee's Bend, a small Black community in Alabama."
Wiley also added clever personal significance to his beautifully elaborate painting of president Obama, which saw him implement an element he is known for including in all of his work: flora and fauna.
When articulating his intentions, he explained that he added different flowers surrounding the powerful figure to represent various facets of his life, both past and present: jasmine represents his birthplace of Hawaii, African blue lilies symbolize his father's Kenyan heritage and chrysanthemums, the official flower of Chicago, are included in remembrance of the beginning stages of Obama's professional career as a community organizer and professor. 
Due to these respective thoughtful implementations of the intimate elements of one of the most cherished first families in American history, and just their sheer and unapologetic expressions of Black pride through their art, Amy Sherald and Kehinde Wiley are indelibly deserving to be honored in our Black History Month series, #TheGreat28.