These Photos Of Rihanna Going TF Off On Her Boyfriend Has The Internet Dying Laughing
Please look at these hilarious fan theories about the argument.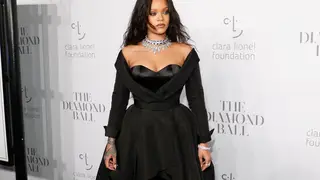 Despite those MediaTakeOut-spurred rumors about a breakup between Rihanna and her Saudi businessman boyfriend, Hassan Jameel, recent photos of the two on a Mexican vacation would actually confirm that they're still going strong.  
That's not to say a few disagreements don't pop up here and there (as is the case for every intimate relationship), and some paparazzi flicks may have caught a heated one between RiRi and Jameel. In the photos, a bikini-laden Rihanna and Jameel are basking in the sun for their Mexico getaway. However, RiRi has a stiffly pointed finger directed right at him with a quite discontented expression on her face. In the other photos, Jameel grabs his chest as he looks to be explaining something to her, and Rihanna sits up with a blunt tucked between her fingers and another annoyed facial appearance.
One thing is not for sure, and that's what the two may have been arguing about, if they were arguing at all. But let the Rihanna Navy tell it, and they're certain that Jameel was in the wrong, and they've got a bunch of hilarious scenarios about how the argument went down to explain why.
See some of them that's got the internet crying actual tears of laughter below.