Shoo Fly!: The Biden-Harris Campaign Releases A Fly Swatter After The VP Debate That Sells Out In Minutes
The fly that landed on VP Pence's head has taken on a life of it's own.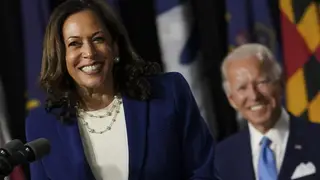 The Biden-Harris campaign taps American Fashion Designers for their 'Believe in Better' merchandise collection. Nineteen designers have volunteered their talents and creativity to show their support for the vision that Joe Biden and Kamala Harris have put forward to build America back better and support Democratic candidates. 
Aurora James, Joseph Altuzarra, Vera Wang, and Victor Glemuad are among the 19 designers apart from the collection. The line features an array of items you wouldn't usually see in a campaign merch collection- from hats and jewelry to scarves and face masks. 
Brother Vellies designer, Aurora James posted a photo to Instagram wearing the 'Black Women For Biden-Harris 2020' sweatshirt she designed as a part of the collection. Her caption read: "I couldn't be more grateful to be a part of a nation of Black women that will help us bring home this WIN in November. This shirt is unapologetically for us - and make no mistake Black women are about to make history this year."
Thom Browne, Tory Burch, Jonathan Cohen, Carly Cushnie, Kathryn and Lizzie Fortunato, Prabal Gurung, Gabriela Hearst, Lazaro Hernandez and Jack McCollough (Proenza Schouler), Brett Heyman (Edie Parker), Thakoon Panichgul, Monique Péan, Joe Perez, Vera Wang, and Jason Wu, have also designed unique pieces for the collection.
"We are in a battle to restore the soul of our nation, and we're seeing Americans across the country come together in a variety of ways to support Joe Biden and Kamala Harris because they are the leaders we need to heal and unite the country. I thank these designers for volunteering their time and talents to help win this election and the hardworking people who brought these designs to life." Rufus Gifford, Deputy Campaign Manager, Biden for President. 
If you want a lasting memory of Wednesday night's vice presidential debate between Mike Pence and Kamala Harris, several items are for sale, including "Truth Over Flies" fly swatters. They are now sold out on Joe Biden's website, but the fly that landed on VP Pence's head has taken on a life of it's own.  Shops on Etsy and Ebay are selling similar fly swatters, should you need to get your hands on one!
Shop the entire collection here!