'The Woman King' Opening Weekend: Twitter Reacts
"Black women need this kind of empowerment," one user said of the film.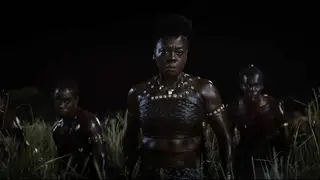 The Woman King, starring award-winning actress, Viola Davis, opened this past Friday (September 16) in movie theaters, receiving mixed reactions from Twitter users.
"Black Women need this kind of empowerment. We are resilient in many ways," one user tweeted. "We too often are put in a box and our strength is constantly being tested. We aren't one dimensional. We are more than our strength. We have many faces. We may fall but we don't stay down!"
Another user stated, "I can't really process this fully yet. But #WomanKing might be the best depiction of African resistance I've ever seen. It might be the best movie I've seen period. I knew it would be good and yet I am still stunned."
According to The Hollywood Reporter, the movie was expected to open with $12 million in sales, by Sony's projection. Instead, the movie pulled in over $18 million in revenue.
Directed by Gina Prince-Bythewood and written by Dana Stevens, the movie is based on a story by Maria Bello and Stevens about the Agojie, an all-woman army in the West African Kingdom of Dahomey in the 18th and 19th centuries.
While many praised the film, there were people who weren't too fond of the movie, some arguing that it should be boycotted.
"No one should support this film. Even in this #womanking  movie's fictional portrayal of them stopping the slave trade for palm oil that was so they could be slavers & use the slaves for palm oil production. And even that is a lie whites forced them to stop. #BoycottWomanKing," one Twitter user wrote.