Azealia Banks Covers Playboy Magazine
The "Wallace" rapper graces the risqué publication's April music issue.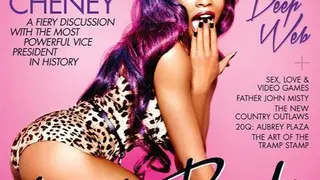 (Photo: Ellen Von Unwerth for Playboy Magazine, April 2015)
Harlem femcee Azealia Banks gets frisky for the April Music issue of Playboy magazine. The "212" rapper strikes a sexy pose while rocking a leopard-print leotard, red knee-high boots and a live black cat on her head, above the tagline: "Hip-hop's fierce queen is ready to roar!"
Though Banks is pretty subdued on the cover, she did pose nude for her spread, which was shot by famed photographer Ellen Von Unwerth. Speaking with The London Evening Standard, the notoriously brash rapper said that she immediately jumped at the opportunity when the magazine called.
"I mean, Naomi [Campbell] did Playboy, right?" she said. "And she has small tiddies, too."
While Banks does show it all in the spread, the taste level was not compromised: "Well, I don't spread, if that's what you mean," she said. "I don't think you will see any, like, pink. I don't know if they will show my c**t. They might. I dunno. I don't mind nudity."
Proving that she only does it big, the rapper made sure to point out that it was the cover or nothing at all. "I'm not going to show my p***y unless I get the cover," she said.
Well, alrighty then. The issue hits newsstands on March 20.
BET.com is your No. 1 source for Black celebrity news, photos, exclusive videos and all the latest in the world of hip hop and R&B music.