Watch 'L&HH' Star Benzino Beg His Estranged Wife for a Second Chance After Admitting He Cheated
Yep, it happened in front of cameras.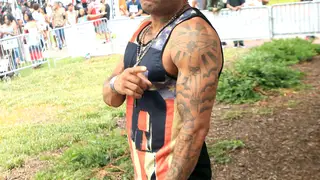 Former Love & Hip Hop: Atlanta stars Benzino and Althea Eaton seemed to be living happily ever after not too long ago, but it seems as if their under-the-radar living proved to be riddled with infidelity as Benzino's now in the dog house.
After reports that Althea found her man cheating, folks began wondering if she would take him back yet again, and, actually, she's open to it. However, she has a price.
The estranged couple was caught outside popular celeb hot spot Catch over the weekend, where Benzino pleaded his case to Althea with several passers by looking on. Standing behind her, he begged for her forgiveness before she mentioned that she would consider giving him a second chance if diamonds are involved.
"Everybody deserves another chance," he told her after the paparazzo asked her what's holding her back. "
When he said he already gave her a ring as an apology, Althea added, "I'm waiting for the new one."
Take a look at the exchange below:
See how the LHH: ATL cast did some good recently in the BET Breaks video, above.