BET Awards '20: Great Moments From The Dearly Departed
A look back at BET's latest and greatest.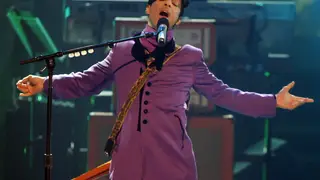 We believe in giving folks their flowers while they can smell them. Many legends who are no longer here, have graced the stage at the BET Awards and been given their just due.
As we get closer to this year's ceremony (June 28th at 8 pm EST), it's a good time to reflect on the best moments from our icons who now rest in the ancestral plane. See below for some of our favorite memories.
Michael Jackson (August 29, 1958 - June 25, 2009) and James Brown (May 3,1933 - December 25, 2006)

An epic moment took place at the 2003 BET Awards.  Michael Jackson, who every modern pop singer/dancer pays homage to, took time to praise his own idol. The Prince of Pop surprised everyone when he draped James Brown in a cape at the end of Brown's performance (a signature move). The two legends hugged and proceeded to have a friendly dance-off before Jackson gave a long and heartfelt speech as he presented Brown with the Lifetime Achievement Award.

Whitney Houston (August 9, 1963 - February 11, 2012) and Bobbi Kristina Brown (March 4, 1993 - July 26, 2015

At the very first BET Awards in 2001, Babyface and Mary J. Blige presented Whitney Houston with the Lifetime Achievement Award.  The then 37-year-old songbird gave a vibrant, engaging speech that had the audience enraptured. She started off by singing the hook to "Survivor" by Destiny's Child. The ladies were in the audience and just as thrilled as everyone else by the impromptu shout-out. Houston was in rare form as she rhythmically rattled off the names of her team as she shimmied and snapped her fingers. She also thanked her family, including 8-year-old Bobbi Kristina, who was on stage and sheepishly acknowledged the audience.

Rick James (February 1, 1948 - August 6, 2004) and Teena Marie (March 5, 1956 - December 26, 2010)

Rick James came for a good time at the 2004 BET Awards. The  singer shouted into the microphone "I'm Rick James, bitch," which elicited laughter from the audience. The phrase c was a nod to a now classic skit from the Chappelle Show about his love/hate relationship with Charlie Murphy. James wasn't done though. He and Teena Marie performed a rousing rendition of their hit song "Fire and Desire" that had the crowd on their feet. It would be James' last time on stage. He passed away later that year.

Aretha Franklin (March 25, 1942 - August 16, 2018)

Who wears a fur to walk on stage to perform? Aretha Franklin of course. The Queen of Soul sauntered into the spotlight at the 2014 BET Awards draped in a full-length fur that she shrugged off of her shoulders seconds before she hit her first note. Franklin belted out a searing rendition of Sam Cooke's "A Change is Gonna Come" in honor of Nelson Mandela who died in December of 2013. Beyond her shimmering jewels, Franklin was also wearing her Medal of Freedom around her neck. Both she and Mandela had received the prestigious honor.

Prince (June 7, 1958 - April 21, 2016)

Prince was a person who could say a lot with just a facial expression and there was plenty of that at the 2010 BET Awards. The Purple One was honored with a Lifetime Achievement Award and he sat in the audience taking in the performances done in tribute. Patti LaBelleended up taking her shoes off as she sang (that's when you know it's getting good) and Prince held up one of her shoes as if it were the Lifetime Achievement Award itself. When a very pregnant Alicia Keysclimbed on top of  a piano during her "Adore" performance, the faces Prince pulled became instant meme gold.