BET Awards 2022: Jack Harlow And Lil Wayne Perform 'Poison' And 'First Class' With Brandy Dropping In For A Surprise Appearance
"Allow me to reintroduce myself," Brandy says, bringing the audience to their feet as she drops bars.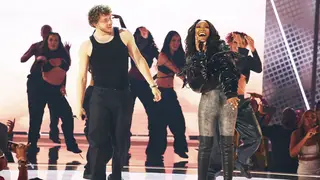 Jack Harlow and Lil Wayne brought the audience to their feet at the BET Awards 2022 with a performance of "Poison" before Harlow delivered his popular single "First Class." The performance went up another notch when Grammy Award singer Brandy made a surprise appearance, as she broke in dropping bars starting "allow me to reintroduce myself."
Harlow is on a winning streak. In April, his "First Class" debuted at No. 1 on the Billboard Hot 100 after picking up 54.6 million on-demand streams in its first week, Variety reported.
Brandy has been rapping under the alias Bran' Nu since 2009 when she worked with Timbaland on the track, "Meet in The Middle" on his Shock Value 2 album. According to Vibe, Timbaland saw Brandy  rhyming on YouTube and knew he needed to add her on for her rhyming ability.
Brandy continues to endure the test of time because of her versatile vocal and acting abilities. She made her mark at 15 in 1994 with the release of her self-titled debut album, earning her the nickname, "The Vocal Bible." With hip-hop influenced singles like "I Wanna Be Down" and "Baby," the album became an immediate classic. and won a Grammy 1998 in a duet with fellow teen singer Monica for "The Boy Is Mine."