2023 NAACP Image Awards: Smirnoff Has A New Twist On The Classic Cosmopolitan
The Smirnoff Pink Lemonade Cosmo promises to give you a more modern and playful cocktail experience.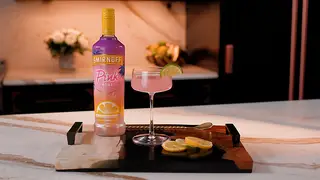 Feeling exhausted by the basic beverage choices out there? Craving a change of pace to invigorate your upcoming weekend? Say no more because Smirnoff is here to elevate your taste game!
There's nothing quite like catching up with your besties over a refreshing drink. The perfect combination of great company and a fantastic cocktail is the recipe for an unforgettable weekend. And what better way to start things off than with the delicious Pink Lemonade Cosmo  a refreshing twist on an American classic.
From the world of Smirnoff lemonade flavored vodkas, this drink features Smirnoff Pink Lemonade Vodka, orange liqueur, and a splash of fresh lime juice and lemonade. The result is a change of pace from what you already know to a deliciously fruity and tangy cocktail that will leave your taste buds tingling for more.
The Smirnoff Pink Lemonade Cosmo adds a level of sophistication and whimsy to your fun-filled night in. Whether you're binge-watching Abbott Elementary, jamming to the smooth sounds of Kaelin Ellis, or watching them get celebrated with other Black creatives on  the 54th NAACP Image Awards, sipping on a Pink Lemonade Cosmo will surely turn any mundane evening into a memorable one
The Smirnoff Pink Lemonade Cosmo is not only delicious but also visually appealing. The bright pink hue settled in a beautiful, crystal coupe glass makes for the perfect Instagram post. So, get ready to rack up those likes and impress your followers with your impeccable taste.
Check out the recipe below.
Add Smirnoff Pink Lemonade Vodka
Pour in the orange liqueur
Shake for about 10 seconds
Strain into a coupe glass
Garnish with a lime wheel
Grab your shaker, add your ingredients and shake, shake, shake your way to a good time. Satisfy the pickiest of palates and indulge in the delightful Smirnoff Pink Lemonade Cosmo. Cheers to a wonderful weekend!
---
The NACCP Image Awards 2023 premieres Saturday, February 25 at 8 pm ET/PT on BET and BET Her. Share responsibly. Don't share alcoholic recipes with persons who are not of legal drinking age. Smirnoff No. 21 Vodka. Distilled from grain. 40% ALC/Vol. The Smirnoff Co., New York, NY.