7 Places Where Reparations Task Forces Are Moving The Issue Forward
Several municipalities are addressing the legacy of slavery with reparations and are taking a variety of approaches.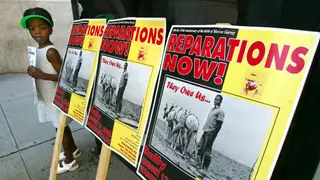 Recently, the topic of reparations has been one of the central talking points in our political discourse. The notion that Black Americans should receive some form of restorative compensation is more of a possibility than ever. Since enslaved African Americans were freed by the Emancipation Proclamation and the broken promise of 40 Acres and a Mule, reparations have been a concept that has been discussed but always met with resistance. Just as America has paid reparations to other ethnic groups for enduring violence and discrimination, the descendants of the enslaved Africans who were held in bondage for almost 250 years, lynched, and forced into legal second-class citizenship for another 100 years, are owed reparations.
In addition to financial compensation, Dr. Rashawn Ray, a Senior Fellow at the Brookings Institution argues that land should be an essential component of reparations paid out to African Americans.
"I think it is that land is central to this discussion because it comes down to 40 acres and a mule. We know that General Sherman signed Special Field Order No. 15 which said that Black Americans or formerly enslaved Black people, at the end of the Civil War would receive 40 acres and a mule, which never happened," Ray explained. "Not only did that not happen, but there were slave owners, including right here in Washington, D.C., who received reparations for lost wages which were formerly enslaved Black people, and even when that enslaved land was taken away from slave owners, that land was actually restored. So land continues to be central to this discussion."
To bring you up to speed on the progress of reparations across the country, here are seven places across the country where the issue of reparations is being taken up by task forces.
San Francisco

San Francisco has been making strides in the area of reparations with legislative action since Gov. Gavin Newsom signed a law to form a task force in 2020. After a year of convening and researching,  the price tag for reparations was estimated at $800 billion to fairly compensate "Black Californians for generations of systemic racial discrimination, over-policing and disproportionate incarceration that have disadvantaged the descendants of enslaved Black Americans."

The recommendations that were presented in March included $5 million to every eligible Black adult, eradicating personal debt and tax bills, homes in San Francisco for $1 for every eligible family, and guaranteed annual incomes of at least $97,000 for the next 250 years. The eligibility to receive compensation includes being born in or migrating to San Francisco between the years 1940 and 1996, living in the city for at least 13 years, being displaced from the city by gentrification during the years of 1954 and 1973, being a descendant of someone who was attending the city's public schools before they were fully desegregated.

Evanston, Ill.

In 2021, Evanston, Illinois made history as the first city to pay reparations to its Black residents after a unanimous vote of 8-1 by the city council. According to the innovative program, $400,000 was earmarked for eligible Black residents and each qualifying household would receive "$25,000 for home repairs or down payments on the property." Funding for the initiative came from donations and revenue from a 3% tax on the sale of recreational marijuana. 

Additionally, the city has pledged to distribute $10 million over 10 years. To qualify for the payments, "residents must either have lived in or been a direct descendant of a Black person who lived in Evanston between 1919 to 1969 and who suffered discrimination in housing because of city ordinances, policies, or practices."

Detroit

In 2021, Detroit City Council passed a resolution to establish a task force to support reparations for African Americans. The aim of the task force is to research the scope of what reparations could look like and how to bring the plan to fruition. Included in the resolution is how Black Americans in Detroit (many of whom are descendants of the Great Migration) have been impacted by slavery and the results of  dehumanizing systems such as mass incineration, the denial of mortgages, education inequalities, and much more. Officials with the city are considering consulting economists and other experts to determine the economic damage done to Detroit's Black community by systemic racism.

One of the key aspects of Detroit's research on reparations is the years of lost economic opportunities during the 1950s and 1960s when the Black Bottom, an African American community with a congruent business and entertainment district called Paradise Valley, was replaced with Interstate 75.  The 13 board members, whose work only recently started, are tasked with coming up with a report with recommendations in 18 months.

St. Paul, Minn.

The  St. Paul City Council voted unanimously to create an 11-member St. Paul Recovery Act Community Reparations Commission to address systemic racism in the city. The group plans to consider the city's history of redlining and environmental injustice and the displacement of Black residents and businesses in the city's Rondo neighborhood, who were forced to leave the area out because of the construction of Interstate 94 in the 1950s. 

So far, the Commission has agreed to conduct monthly meetings with each member serving three-year term limits, and the commission is included in the 2023 budget and with plans to hire a full-time staff member.

Boston

Boston Mayor Michelle Wu announced the formation of the city's Task Force On Reparations which is made up of community leaders, students, scholars, and artists in 2022. The purpose of the group is to "help the Mayor and the City of Boston on healing racial inequities for descendants of slavery." Three items that the task force committed to on are to release a study on the historical impact of slavery in Boston and its impact on African Americans today. This would engage the community throughout the process to consider lived experiences, and offer recommendations to the Mayor on the most cost-effective ways for Black residents. 

While the task force will not establish hard timelines for payments, they will assess the economic, sociological, and psychological harm done to Blacks in Boston. The task was created after the city of Boston formally apologized for its role in the slave trade.

St. Louis

In December, 2022, St. Louis Mayor Tishaura Jones created a reparations commission through an executive order and appointed nine members to it. The stated purpose is to  "assess the history of slavery, segregation and other race-based harms in the City of St. Louis; explore the present-day manifestations of that history; and, ultimately, recommend a proposal to begin repairing the harms that have been inflicted."

One of the major issues that comes from the legacy of systemic racism in both St. Louis City and St. Louis County (the two are separate entities) has been housing discrimination whose remnants are still evident. In fact, St. Louis REALTORS apologized last September for historically creating difficulty for Black people to establish homes in the area.  The commission's first public meeting was held April 25.

Asheville, N.C.

In July 2020, the Asheville, N.C., city council voted unanimously to apologize to the town's Black residents for the generations-long legacy of slavery. "Hundreds of years of black blood spilled that basically fills the cup we drink from today," said Councilman Keith Young. "It is simply not enough to remove statues. Black people in this country are dealing with issues that are systemic in nature." 

But in issuing the apology, the council also passed a resolution to provide reparations to those residents descended from the enslaved. But direct payments will not be made to individuals. Instead the city will invest in areas where Black people will benefit. Among these are minority home ownership, minority business, growing equity and generational wealth, improving health care and education and equity in criminal justice. The city's reparations committee is continuing to meet to outline exactly how to implement reparations fairly to its Black residents.