Report: Mobb Deep Beef Is Real
A source within Mobb Deep's camp says there will never be another album from the group.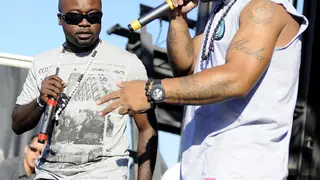 Earlier this week Havoc, one half of legendary Queens rap duo Mobb Deep went on a Twitter rant against longtime cohort Prodigy. Although he's since distanced himself from the harsh words, saying they were not his but those of someone who got a hold of his missing cellphone, a source close to the duo is saying that the tension in the group is very real.
According to XXLMag.com, the anonymous source revealed that problems have been brewing since Prodigy was still locked behind bars serving his three-and-a-half year sentence on gun charges. Apparently Havoc neglected to visit his partner-in-rhyme during much of his stint, however he did receive visits from 50 Cent, who was trying to get P to sign a solo deal with him.
"While he was up there, 50 Cent came to visit a couple times," the source said. "And 50 had came to him and said, 'Listen, man, when you come home, I wanna sign you as a solo artist. I'm gonna give you a $500,000 advance check, but I'm not f-----' with Havoc because Havoc has been dealin' with alcohol issues for years. Since you've been in jail, he's checked in to rehab a few times.… A week before [Prodigy] comes home, Havoc finally shows up," the source continued. "[He says], 'Yo, listen, I'm sorry, man. I've been battlin' alcohol again. I just came out of rehab. I really wanna work again. Let's get money.' "
Since Prodigy's release, the duo have worked together and even dropped the Black Cocaine EP this past November, however, the source says that didn't necessarily mean everything was all good with the pair, who haven't really dealt with each other much outside of recording.
"The only time Prodigy would see him was before a show — at the airport or however they're gonna get there."
Havoc's alcohol addiction is a big issue for Prodigy as well. The source recounts a story of Hav spending $20,000 at a casino while intoxicated then completely forgetting it ever happened the following day and getting angry with his partner's manager.
"When he went into the account, the money was gone," the source recalled. "He forgot because he has these little blackout moments when he's drunk — that he spent all the money gamblin'. He accused Prodigy's manager [of] stealin' the money out of his account. So he knocks on Prodigy's door, he smacks Prodigy across the face, Prodigy wrestles him down, beats him up a little bit. After, he remembers that he was gamblin', so he comes back to Prodigy and apologizes and all that. But at this point, Prodigy is already tellin' me and my other friend, 'Yo, this is the last Mobb Deep tour. When I get back to New York, I'm gonna disappear. I'm not f-----' with H no more.' "
As previously reported, Havoc's Twitter tirade started early April 9 when he tweeted  insulting messages about Prodigy, even accusing him of having homosexual relationships in prison.
"@prodigymobbdeep we got a meeting, lets see if u built to show ur face," he wrote. "Prodigy a b---h and I'm gonna show it…I got n----- in the jail system to to back up that prodigy was f------ homes in jail. prodigy prove me wrong! please...i have a big announcement.... and n----- that was locked wit him know the truth."
On April 10, New York's Power FM's the Breakfast Club morning show aired a recording of a phone call, apparently made by Havoc, that seems to prove he was indeed behind the anti-Prodigy tweets. Despite NORE confirming that it was indeed Havoc's voice on the line, Hav called into the Breakfast Club to deny the entire situation claiming his phone was stolen.
Stay tuned to BET.com as the story develops.

BET.com is your #1 source for Black celebrity news, photos, exclusive videos and all the latest in the world of hip hop and R&B music.
(Photo:  Tim Mosenfelder/Getty Images)