Eminem Is 'Extremely Angry' Trump Has Not Responded To His BET Cypher Verse
"I was and still am extremely angry."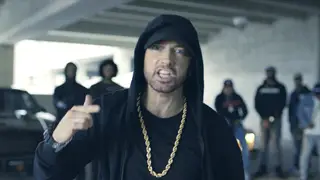 Eminem shook the digital sphere when he spit his hard-hitting cypher during the BET Hip Hop Awards. The internet erupted in celebration when Em dropped a few bars throwing shots at Donald Trump, but t it seems that everyone took notice of the Detroit artist's cypher — except for Donnie himself. And according to a new interview with Shade 45, Eminem isn't too pleased about it.
During his recent interview, Eminem expressed his frustrations with Trump ignoring his BET freestyle. "I was and still am extremely angry," the "Walk on Water" artist said. "I can't stand that motherf**ker. I feel like he's not paying attention to me. I was kind of waiting for him to say something and for some reason, he didn't say anything." ⠀⠀⠀⠀⠀⠀⠀
It is somewhat surprising Trump didn't respond to Eminem's cypher, especially since he is never one to opt out of a social media spat. The five-minute freestyle attacked the president for various reasons, including his racist actions and ignorant banter on social media. "And any fan of mine who's a supporter of his / I'm drawing in the sand a line, you're either for or against / And if you can't decide who you like more and you're split / On who you should stand beside, I'll do it for you with this / F**k you," he rapped.
This isn't Eminem's first time putting a target on Trump's back, either. The rapper has frequently taken shots at the commander-in-chief during his live concerts, chanting "F**k Donald Trump!"
Trump has probably been so occupied yelling at NFL players to stand during the national anthem that he hasn't had time to respond to Eminem's cypher. It should only be a matter of time before he does.