Ralph Yarl, Teen Who Was Shot In Kansas City Incident, Speaks Out
Yarl was shot in the head and arm by Andrew Lester after he went to the wrong address to pick up his siblings.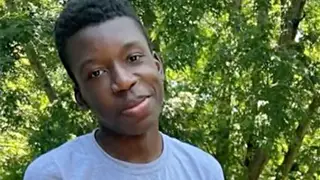 In an interview with ABC's Good Morning America, Yarl told Robin Roberts that when he went to pick up his twin brothers from a friend's house on April 13, he accidentally showed up at the wrong address. Pulling his vehicle into the driveway he walked up the steps and rang the doorbell and then waited for "a long time" until an older white man armed with gun opened the front door.
"He points [the gun] at me … so I kinda, like, brace, and I turn my head," Yarl said "Then it happened. And then I'm on the ground ... and then I fall on the glass. The shattered glass. And then before I know it I'm running away shouting, 'Help me, help me.'"
Andrew Lester 84, shot Yarl in the head and arm telling authorities that he saw a "Black male approximately 6 feet tall" pulling on the door handle and "shot twice within a few seconds of opening the door" with a .32 caliber Smith and Wesson 1888. After the victim escaped, Lister said he called 911. As a result of the encounter,  Yarl suffered a traumatic brain injury.
After the shooting, Yarl noticed he was bleeding from his head and was stunned that he was still alert. He went to several houses that refused to assist him before being let into one home as he sought safety.
"So then I go to the next house across the street. No one answers. And the house to the right of that house, I go there and someone opens the door and tells me to wait for the police," he recalled.
Cleo Nagbe, Yarl's mother, said she drove around searching for Ralph when he was taking too long to return from picking up his siblings. Eventually, she received a call from the police saying that Ralph had been shot and to meet him in the hospital.
"It was traumatic," she said.
Following several days of protest, Lester was charged with first-degree assault and armed criminal action on April 18. He pleaded not guilty and was released on a $200,000 bond. Additionally, he was ordered by a judge to surrender his passport and he can't own a firearm nor have no contact with Yarl.
Because of the post-traumatic stress of the horrific encounter, Yarl didn't want to return home to the same neighborhood where he was shot, according to his aunt, Faith Spoonmore. The family has since relocated
As part of his recovery, Yarl is now seeing a therapist and plans to pursue his love of chemical engineering and music.
"I'm just a kid and not larger than life because this happened to me," he said. "I'm just gonna keep doing all the stuff that makes me happy. And just living my life the best I can, and not let this bother me."
Since the incident, Yarl has received a groundswell of support from people all over the country. A GoFundMe that was established to help cover his medical bills and future college expenses has raised over $3 Million.
"In this case, the court entered an order prohibiting the dissemination of information from the discovery by both the prosecution and defense," Salmon said in a statement on Monday. "As a party to the criminal case, any statement from Mr. Lester would certainly violate that order. I can say Mr. Lester is looking forward to the upcoming preliminary hearing."
Lester has pleaded not guilty. If convicted, he could be sentenced to life in prison.