Bette Midler Has Absolutely No Time for Kim Kardashian's Shade
The Hollywood veteran is in a war of words with the reality star.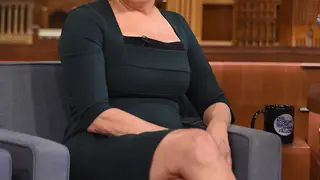 Kim Kardashian clapped back at a random assortment of celebrities this morning, all of whom have one thing in common: they each dissed the reality star for a nude selfie she posted one day prior. Piers Morgan, Bette Midler and young actress Chloe Grace Moretz all took shots at the selfie queen, only to get it back from her on Twitter.
While Morgan and Moretz decided to just let the feud go, Midler isn't backing down from a fight. After Kim accused her of being a "fake friend," she wasted no time retaliating on social media:
Well, dayum. Hopefully Kim will think better than to take this any further. Many have already been speculating that her husband Kanye West, notorious Twitter-ranter, was behind the original diss, but Kim made it clear earlier today that the words were all hers. Still, hard to deny that 'Ye's fingerprints are all over it:
See the selfie that started it all on BET Breaks below:
BET.com is your No. 1 source for Black celebrity news, photos, exclusive videos and all the latest in the world of hip hop and R&B music.