Ex-Biden Aide Cedric Richmond Was Not Tested For DWI By NOLA Police After Crash
Cedric Richmond crashed his vehicle into an oak tree with his young son as a passenger in April.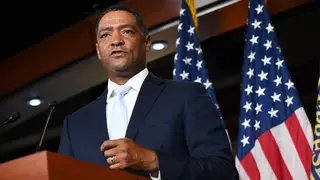 Cedric Richmond, a former U.S. Rep. and presidential adviser to President Joe Biden, was not tested for DWI by New Orleans police after he crashed his vehicle into an oak tree with his young son as a passenger on April 23, NOLA reports.
Following the accident, Richmond was transported to the hospital by an ambulance which left his Mercedes convertible totaled. Also, Richmond's son said he experienced pain on his waist but was in stable condition.
Officer Mark Miranda wrote in his report that he "did not detect an odor of alcoholic beverage" coming from Richmond, who currently serves as senior advisor to the Democratic National Committee, and was also chair of the Congressional Black Caucus from  2016 to  2018.
Devona Dolliole, a New Orleans police spokesperson said that "there was no reasonable suspicion of intoxication nor probable cause to conduct tests for impairment," or "to even ask about it."
According to Louisiana law, drivers "shall be tested for intoxication in cases where a citation is imminent" and when the accident results in a "suspected serious injury."
While the latter condition was met for the test, Miranda didn't cite Richmond, because a statement given by Richmond's son proved to be false. He claimed that the road was wet and the accident occurred after an orange Corvette swerved in front of them.
Miranda's report states that the road was dry and surveillance footage cameras that he viewed before completing his report showed no evidence that a Corvette was at the scene of the wreck.
Ultimately, Miranda believed that Richmond's slurred speech and behavior were due to the injuries he sustained from the wreck and the impact of the car's airbag.
Per the report,  a number of police officers who reviewed the investigation raised questions about how the situation was handled by law enforcement. Also, they noted the accident took place when the department was low on staff and halted enforcing drunk-driving laws, except in cases of catastrophic injuries and deaths.
In 2022, New Orleans police cited just 69 drivers for DWI's which was a significant decrease from 1,319 in 2011. Over the last decade, DWI citations are down 95% in New Orleans.
Ronal Serpas, a former NOPD Superintendent who teaches criminal justice at Loyola University, said that Miranda's decision not to test Richmond is reasonable because he didn't smell any alcohol.
"It doesn't look like he objectively did anything wrong," he said. "By and large, this doesn't jump off the page as a coverup."
Serpas added that the NOPD should conduct an internal probe "to ensure that that investigation was properly."