An Examination of Last Night's Iowa Caucus Results
More questions were raised than answers.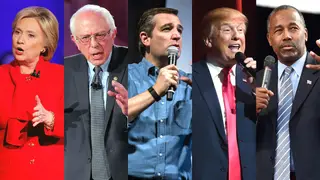 Last night's Iowa Caucus presented surprises on both sides of the political spectrum. Texas Senator Ted Cruz' Evangelical prowess – especially advertised in the latter stages of his Iowa campaign – may've been the single biggest factor in his four-point victory Monday night. Hillary Clinton and Bernie Sanders essentially tied with each securing roughly 50% of the vote (Clinton edged out Sanders in a few precincts, which gave her the technical victory heading into the New Hampshire primary).
As for Donald Trump, he finished a disappointing second by securing only 24% of the GOP vote losing by more than 6,000. None of what happened Monday was improbable but similar to what's happened during the campaign season so far, everything contrasted with what was predicted.
Clinton and Sanders were polling closely in Iowa prior to caucus goers casting their support, but no one thought it would be a nearly statistical dead heat. It was so close in-fact, that seven times precincts had to flip coins to see who won. Six of those times it came up roses for Secretary Clinton and it very well could've been those six locations that won her the state.
As each candidate on both sides trotted out victory speeches, or in the case of Senator Marco Rubio, "we did better than expected" speeches, it seems as though Iowa left us more questions than it did answers. On the Republican side – and for the first time in recent memory – Donald Trump couldn't be the imperious force that dominated the news cycle. You had an establishment-esq candidate in Rubio who was happy to be only a point behind the billionaire businessman. And you had Ted Cruz, whose ground game in Iowa outperformed every GOP candidate. His win was impressive, but his Evangelical prowess only a plus when it comes to states like Iowa.
For Dems, Hillary Clinton edged out Bernie Sanders according to recently released official returns from Monday night. She was expected to win Iowa though and is predicted by many to win the Democratic nomination in general. With the results being as tight as they were, it seems like both camps have something they can tout until next Tuesday. Clinton can say she won Iowa, something neither she nor husband Bill has ever been able to do. Sanders can say he had been polling consistently behind Clinton all the way until Iowa, and that he can compete in a largely religious and homogenous state outside of the northeast heading into New Hampshire, where he currently holds a double-digit lead according to recent polls.
But what did this really tell us about where we stand moving forward? Iowa is notorious for incorrectly picking who the eventual nominee will be as the last two winners for the GOP, Mike Huckabee and Rick Santorum (who also ran this year only pulling in a combined 3 percent), both did not secure nominations in 2008 and 2012. Iowa did bold well for Barack Obama, however the fight for that nomination in '08 was much longer than it needed to be.
If anything we learned to follow the lessons already taught to us during this already lengthy primary season: predictions are futile, and anything can happen. We're starting to find out who the players are going to be heading into the general election, but with so many on the Republican side who've yet to drop out it's tough to see whose support will grow in the coming weeks. With Martin O'Malley now officially suspending his campaign, it's a two person race for liberals, one that could be a long-fought battle just like it was in 2008.
Oh yeah, and there's Dr. Ben Carson. He secured nine percent of the Iowa's GOP vote last night but perhaps more interesting, he reportedly dashed the state prior to acknowledging the final results in order to pick up "fresh clothes." No one's clothes seemed to make a difference for people of color in Iowa as nearly zero African Americans cast a vote for a GOP candidate Monday.
The next primary for each party will be a week from today (February 2) as almost every campaign hit the road for New Hampshire either last night or early Tuesday. Donald Trump is currently ahead in the state for Republicans, garnering an 18-point lead over Ted Cruz with 30 percent saying they would vote for him in the latest CNN/WMUR poll. That same poll also has Bernie Sanders with a commanding lead over Clinton. The Independent Senator from neighboring Vermont currently holds a 57% to 34% advantage over Clinton, who won the state over Obama in 2008.
BET.com is your No. 1 source for Black celebrity news, photos, exclusive videos and all the latest in the world of hip hop and R&B music.
(Photos from left: Justin Sullivan/Getty Images, Justin Sullivan/Getty Images, Brendan Hoffman/Getty Images, Ethan Miller/Getty Images, Ethan Miller/Getty Images)