Ethiopia Habtemariam Tapped To Be Motown Records' New Chairman, CEO
She has served as president of the legendary Motown Records since 2014.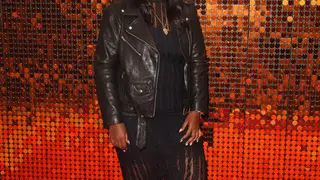 After serving as president of Motown Records since 2014, Ethiopia Habtemariam has been promoted to chairman/CEO.  
Motown announced the news on Instagram on Monday (March 1) coincidentally at the start of Women's History Month. They thanked Habtermariam for her "continuous leadership, integrity and authenticity." 
The music executive has an extensive list of creative collaborations under her belt including Quality Music Control, QC is home to the music sensations of Migos, City Girls, Lil Yachty, Lil Baby and Layton Greene. 
"You are so deserving and we couldn't be more proud to continue the Motown legacy with you as our CEO and Chairwoman 💐," they captioned their post. 
"I'm so grateful for this huge opportunity because there's been a lot of incredible hard work put in to allow me to get to this space," Habtemariam said in an exclusive interview with Billboard. "Coming into this industry, there were so many incredible women that I looked up to within its various business sectors. They gave me confidence and never made me question what I would be able to achieve. And I'm thankful I got to see that. This opportunity is really me standing on their shoulders."
She also spoke about new music that is on the way from Migos, Tiana Major9, Tiwa Savage, Ne-Yo, Bree Runway, Kem and Erykah Badu. 
Habtermariam will report directly to Universal Music Group chairman/CEO Sir Lucian Grainge.