Cardi B Admits To Ripping Into Offset Over Controversial Lyric: 'Why Would You Use That Word?'
The Bronx femcee claims she checked her fiancé amid the backlash.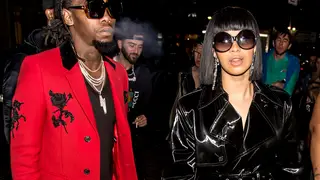 Fresh on the heels of Offset landing himself in the hot seat over a questionable lyric, Cardi B is setting the record straight once and for all. 
As previously reported, the Migos frontman recently caught heat after rapping the line "I cannot vibe with queers" in his latest effort "Boss Life." While the Atlanta rapper quickly apologized for what many believed to be a homophobic lyric, he still caught a lot of flack on social media and beyond. Now, his fiancé Cardi has taken to Periscope to defend the rapper, where Saturday night (Jan. 20) she broadcast her thoughts on the situation at hand.
"I'm not going to let somebody call him 'homophobic' when I know that he's not," Cardi said candidly. "And I'm saying this because I seen him around these ... around gays, and he treats them with the same respect he treats everybody. He never acts uncomfortable and he just don't care."
The "Bodak Yellow" rapper also noted that she was just as surprised as Offset's critics once she learned of the ordeal. "When I started seeing all this fuel, I was even talking to him like, 'Yo, what the f**k is going on? Why would you use that word?'" she said. "He literally told me, 'I didn't even know that was a word for gays.'"
"I never even heard that word in the first place," she added. "Why don't y'all educate people about it? A lot of people are not aware about what's wrong or right in the LGBT community. Why don't we do things to educate instead of bashing and trying to label something that they not?" 
Take a look at Cardi's full remarks on the situation below.