In Memory of Trayvon, Rachel Jeantel Keeps Her Promise
Rachel Jeantel defies critics and graduates from high school to honor her late friend Trayvon Martin.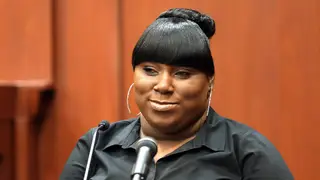 Donning a white cap and gown, Rachel Jeantel came through on a promise to her late friend Trayvon Martin this Friday. She graduated from high school.
Jeantel was the last to speak to 17-year-old Martin moments before the unarmed teenager was shot dead by George Zimmerman in 2012. Jeantel later served as a key witness for the prosecution.
Unlike those that mocked Jeantel's speech and mannerisms during the trial, Martin allegedly never judged Jeantel for her personality or the way she spoke.
According to Jeantel, Trayvon "cared about you. That's a good human." 
Miami defense and civil rights attorney Rod Vereen worked to get Jeantel on the right track by gathering tutors, psychologists and mentors to take her from an elementary school reading and math level to high school graduation with the help of the Tom Joyner Foundation.
"When they say it takes a village to raise a child, this is what has happened here," said Vereen.
The future for Jeantel includes continued meetings with tutors, a university education and a potential career as a clothing designer.
"The witness who didn't know how to speak English knows how to speak English through the 12th grade now. I never quit," she told Yahoo News.
Jeantel says Martin's presence still filled the room through the attendance of his mother, Sybrina Fulton.
"Her coming is like having Trayvon there saying, 'You did it. You proved people wrong,'" she told Yahoo News.
BET National News - Keep up to date with breaking news stories from around the nation, including headlines from the hip hop and entertainment world. Click here to subscribe to our newsletter.  
(Photo: Jacob Langston-Pool/Getty Images)