Mel B's Makeup Artist Co-Signs Physical Abuse Claims
He admitted to covering up her bruises over the years, and more.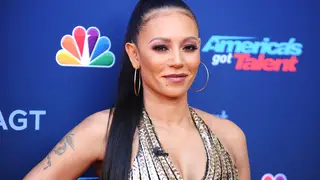 The divorce between Mel B and her estranged husband, Stephen Belafonte, intensified this week after her claims of domestic violence were supported by her sister, Danielle. Now, another person close to the singer has come forward agreeing that the former Spice Girls star did suffer injuries at the hand of her ex.
According to TMZ, the singer's longtime makeup artist recently revealed that he has been keeping her secret for years because "she confided in him that Stephen Belafonte caused many of her injuries he covered up with makeup."
Now that the word is out, her makeup artist has contacted Mel B's lawyers, offering to write a sworn declaration explaining everything he has seen and heard over the course of the years they worked together.
He explained that he repeatedly would have to cover up bruises on the singer's face and body with makeup, but he would remain mum about what he saw because she would confide in him, but lie to others. He also added that Belafonte knew his wife was telling him how she was being brutilized, and even threatened him on numerous occasions, saying he would withhold money from him if he failed to do as he said and keep his mouth shut about what he saw.
The makeup artist also added that Belafonte's verbal abuse, in addition, also extended to their children, and he would overhear him calling Mel "disgusting and ugly."
He explained that his actions were also eerily controlling, as he would order security to monitor her every move "beyond a level of safety."
Belafonte continues to deny all allegations that he abused his estranged wife.
Recap the unfortunate domestic violence claims made against Belafonte in the BET Breaks video, above.