Watching TV and Junk Food Go Hand in Hand for Kids
Billboards, radio, online or television ads play a part in the food choices that children and their parents make. And given the current obesity rates among young people, it's clear that companies are winning in race to reach youth.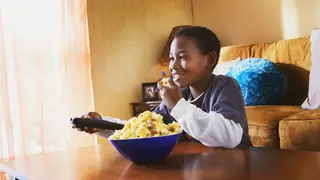 It's not a secret that advertisers for fast food, candy and even sugary drinks make it a mission to send specific messages to children. Past data has shown how these ads — whether on billboards, radio, online or television — play a part in the food choices that children and their parents make. And given the current obesity rates among young people, it's clear we are losing, and the companies are winning.
A recent study adds more proof to the power of advertising.
Researchers from the Eunice Kennedy Shriver National Institute of Child Health and Human Development studied 12,000 students in grades 5 through 10 from across the U.S. and asked them questions about the amount of time they spend watching television or online. They then asked them how often they eat certain foods such a fruit, vegetables, fast food and sugary soft drinks. Overall, they found that the more children watched television and spent online, the more they ate unhealthy foods.
Time.com reported:
Even after accounting for the fact that children sitting in front of the TV or computer might simply eat more overall out of boredom, the relationship between TV time and unhealthy eating habits remained. That suggests that the link goes beyond excessive snacking. "The behaviors we are looking at are part of a pattern of behaviors that are more likely related to obesity," says Iannotti.
In other words, TV watching can establish a deeper pattern of poor eating habits that can set children up not only for future obesity, but also for many of the chronic diseases associated with overweight, such as diabetes, sleep apnea and heart problems. When children spend more time in front of the screen, they are also less likely to be exercising or engaging in physical activity that can burn off calories and keep the heart healthy.
These findings are particularly important to us not just because African-American children bear the brunt of the obesity epidemic, but also because our kids also spend a lot more time watching television than white children.
Last year, researchers from Northwestern University found that children of color spend more than half their day consuming media content —  an average of 13 hours a day using mobile devices, computers, TVs and other media, which is about four and a half hours more than white kids. They also found that African-American teens are more likely to have a TV in their bedrooms (which can have a negative impact on sleep) and to eat meals in front of the TV.
But yet, in the end, television shouldn't be the force behind what kids are actually eating — that's on their parents.

BET Health News - We go beyond the music and entertainment world to bring you important medical information and health-related tips of special relevance to Blacks in the U.S. and around the world. Click here to subscribe to our newsletter.