Deion Sanders, Colorado State Coach Exchange Verbal Jabs Before Big Game
Colorado State University football coach Jay Norvell criticized Sanders for wearing hats and sunglasses during media sessions.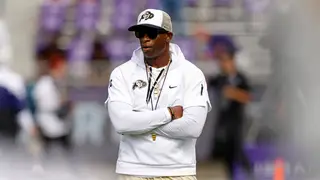 Deion Sanders aka "Coach Prime" says he keeps receipts and his latest one is from Colorado State University head Jay Norvell.
According to Sports Illustrated, Norvell has taken issue with the decorum of  "Coach Prime," whose University of Colorado team is one of the best stories in sports so far this year, and threw some shade in the first-year coach's direction.
"I don't care if they hear it in Boulder. I told them, I took my hat off and I took my glasses off. I said when I talk to grown-ups, I take my hat off and my glasses off," Norvell said on Wednesday (September 13). That's what my mother taught me. (Colorado's) not going to like us no matter what we say or do."
Sanders took some time to respond in an interview with University of Colorado play-by-play announcer Mark Johnson to respond to Norvell's comments.
"I'm not going to get in front of you and change who I am just because you're here?" Sanders said. "I don't do that. I'm consistent with who I am."
"I'm a grown man. I'm supposed to wear what I'm not supposed to wear," Sanders continued.
During the Buffaloes' practice on Thursday (Septermber 14), Sanders brought up Norvell's remarks again saying that he made the game on Saturday (Septermber 16) versus Colorado State is personal.
"I'm minding my own business, watching some film, trying to get ready," Sanders said in the video. "Trying to get out here and be the best coach I can be. And I look up and I read some bulljunk that they done say [sic] about us. Once again, why would you want to talk about us when we don't talk about nobody? All we do is go out here, work our butts off, and do our job on Saturdays. But when they give us ammunition, they messed around and made it what?"
"Personal," his players responded.
"It was just gonna be a good game. They done made around and made it..."
"Personal," his players said again.
"It was gonna be a great test, battle of Colorado," Sanders said. "But they done messed around and made it..."
"Personal," the team said.
While the battle highly-anticipated battle of Colorado is shaping up to be even more exciting because of the verbal exchange between Sanders and Norvell, the immediate impact and success of the University of Colorado can not be denied.
After defeating TCU and Nebraska, the Buffaloes are looking to go 3-0 for the first time since 2018.