Deion Sanders Wins Big in Colorado Coaching Debut
The Buffaloes pulled off a 45-42 upset against the TCU Horned Frogs.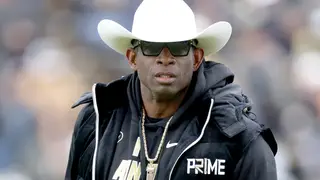 Deion Sanders came into his new role as University of Colorado Boulder's head football coach with something to prove. The former NFL star scored a history-making contract worth nearly $30 million over five years after moving from his role as head coach at HBCU Jackson State University.
His team's win on Saturday (Sept. 2) may have silenced the naysayers.
"We told you we coming," Sanders said when asked for his message for the Colorado fans. "We told you we coming. You thought we was joking. And guess what? We keep receipts."
Shedeur Sanders, Deion's son, and the 2022 class' No. 1 recruit Travis Hunter stole the show for the Buffaloes, according to Fox Sports.
"I don't know how many snaps he played, but we're going to put a hot tub on the plane for him to make sure he's straight," Sanders said of Hunter.
Sanders was hired in December to turn around a program that went 1-11 in 2022.
His relocation was both celebrated and criticized by sports fans after he and Shedeur, a quarterback, left Jackson State University after three years, where he led the Tigers to an undefeated regular season.
Sanders has also been plagued by his own physical challenges: He had two toes amputated from his left foot due to blood circulation issues. It's possible the 56-year-old Hall of Famer could lose the foot entirely.
"You just have to understand what the risks are. Things can cascade," one of his physicians, Dr. Donald Jacobs, said in June.
"Well, I know what risks are," Sanders replied. "I only have eight toes. So, I'm pretty sure I understand."