Jidenna: 'The Purpose Of Life Is To Hang Out'
The singer spoke to BET about his upcoming album and partnership with Eventbrite's RECONVENE Accelerator.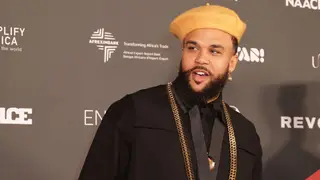 The man, the myth, the recording artist Jidenna wants to help the world build and bring communities together IRL, so he's teamed up with Eventbrite's RECONVENE Accelerator to make it happen.
Over the last few years, we've had the pleasure of watching Jidenna blossom lyrically, stylistically, and as an artist. And in 2020, when the pandemic shut the world down, Jidenna used that time to forget about the industry for a while and get to know himself better. "I feel healthier than I have in the past," Jidenna shared. The Nigerian-American rapper elaborated, "That doesn't mean I'm well. I'm just healthier by voicing my vulnerabilities. [It] doesn't mean that I'm healed or fixed."
It means Jidenna's entirely in his pleasure era, offering up his own tried and true remedy to life's ills…community. Leaning into community as a core value, Jidenna lives his life connected. He understands the impact of simply connecting as a part of two communities of like-minded artistic individuals: Wondaland and Fear & Fancy.
"The purpose of life is to hang out. I think within my community, we indulge in that. We live that life to the fullest. And we do it specifically as Black and brown people who have not been afforded a history of rest and pleasure," Jidenna said. And he wants everyone to have access to that hanging out, rest and pleasure through Eventbrite's RECONVENE Accelerator.
This program will give entrepreneurs, culture makers, and leaders within music, wellness, and food & beverage who want to bring their community together IRL funding and mentorship to make their event dreams come true. Jidenna's affinity for community and musical prowess makes him the ideal judge and mentor. Once 25 finalists have been selected, Jidenna and his fellow judges Sophia Roe and Tamara Levitt, and the internet public get to select their favorites out of the 25 and 5 winners will receive $20,000 from Eventbrite to build their communities through events. The winner in the music category gets the chance to have a one-on-one mentorship with Jidenna.
As someone who has been mentored and lifted up by some amazing artists, Jidenna understands having someone down a path he hoped to walk down to give insider tips to help him along his journey. That's precisely what he wants to offer the community builders who win. "That's an ideal way to really scale your business, scale your communities, scale your art," he said.
Community has helped Jidenna scale his own art. His debut album, The Chief, released in 2017, positioned him as a versatile artist with an eclectic sound. From the boisterous and catchy "Classic Man" to the slower, more introspective "Bambi," Jidenna showed a range seldom seen in debut albums. His clever lyricism, coupled with an unmistakable delivery, quickly positioned him as an artist to watch.
His 2019 sophomore project, 85 to Africa, continued to build on his multifaceted sound, with influences from his African heritage becoming even more evident. This album was a sonic journey through the diaspora, merging traditional African beats with modern hip-hop production. The lead single, "Sufi Woman," exemplified this synthesis, combining an infectious Afrobeat rhythm with poignant lyrics about female empowerment.
And now, after several years, we're getting his third studio album ME, YOU & GOD. This album is unique and personal, and Jidenna gives his community most of the credit, especially to his friend, the talented producer/artist, Roman GianArthur. "There's so many people on the project, but Roman is the biggest addition. He created a landscape sonically that I was able to float in. And it coincided with me meeting a woman that became the muse for the project, and also my partner in crime," Jidenna said, referencing the woman who inspired him to go from polyamorous to monogamous.
It took two years to leave the major label he was signed to, and in that time, Jidenna created ME, YOU & GOD in one of his life's "healthiest" times. He said, "This project is an amalgamation of a feeling I've had in the last couple of years. And we were able to capture that feeling."
"We're taking this little dreamy love trip of an album and going on tour: July 15 to August 16. It's called the Silk Road Tour," Jidenna said. So pack your sleeping bags, silk jammies and canteen to have the swankiest time seeing Jidenna IRL! Until then, you have until June 13, 2023, to apply to the Eventbrite RECONVENE Accelerator to build your own community IRL and get mentored by Jidenna.