It's All 'Love': Diddy Is Head Over Heels For Baby Love Sean Combs
The music mogul shares adorable post-nap photo of 4-month-old daughter on IG story.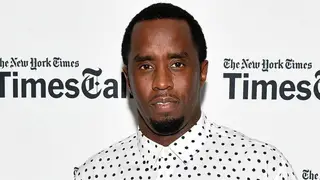 Diddy is enjoying spending time with his four-month-old daughter, Love Sean Combs.
According to PEOPLE, Diddy shared an adorable Instagram story photo of his new bundle of joy on Thursday (Feb. 16).
"The face she makes when I wake her up from her nap to go to the chiro," he captioned the IG story.
Baby Love is seen covered up in a fleece onesie with bear ears and a pink blanket for extra warmth, as she gazes into the camera.
Just a little under a week ago, Diddy shared another picture of Love Sean sitting in her stroller, dressed in a Biggie Smalls onesie as her gaze — once again — takes over in the photo.
Earlier this month, the music mogul also shared a video of Love Sean getting a massage, with the video captioned, "'She's Just Like Her Daddy!'
Diddy is father to twin daughters D'Lila Star and Jessie James, daughter Chance Combs, two sons King Combs and Justin Dior. He adopted his son Quincy Taylor Brown when he was in a relationship with the late Kim Porter.
Diddy announced the birth of his daughter back in December 2022 via Twitter.
"I'm so blessed to welcome my baby girl Love Sean Combs to the world," wrote Diddy, who did not share the identity of the baby's mother. "Mama Combs, Quincy, Justin, Christian, Chance, D'Lila, Jessie and myself all love you so much! God is the Greatest!"