Biden Makes His First Late Night Show Appearance Since Becoming President
Joe Biden made his late-night debut since becoming president on The Tonight Show with comedian Jimmy Fallon.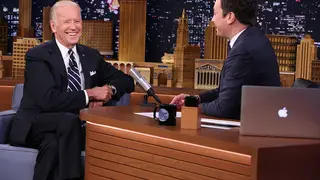 President Joe Biden made his late-night debut on The Tonight Show with comedian Jimmy Fallon on Friday, Dec 10. The show marked Biden's first appearance on late-night television since taking office as president in January 2020.
Biden joined Fallon on the Christmas theme episode virtually. The two bantered about a range of topics including the Build Back Better initiative that he mentions did not get a single vote from the Republican party to help it come to pass. 
The President also promoted a holiday skit featuring Megan Thee Stallion and Ariana Grande with Fallon writing "'Tis the season (to get boosted). See you soon, @FallonTonight!"
This isn't Biden's first time on late-night television. During his time as Vice President during the Obama administration, he made two previous appearances on the show in September 2016 and again right before becoming the presumptive nominee for president with the Democratic party in April 2020. He has also made appearances on other shows, including Seth Meyers.
A new Quinnipiac University national poll shows a steep drop in approval ratings to 36%. Reports indicate that the administration is pressuring Biden to engage more with the media in his midterm year for better branding amidst the news. The president is currently making rounds around the country to promote his new billion-dollar bipartisan infrastructure bill.