Soulja Boy Blames Interscope for Poor Album Sales
SB says label was at fault for disappointing performance of "The DeAndre Way."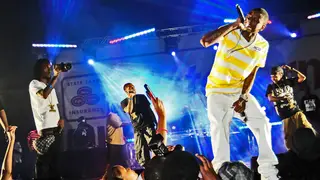 Soulja Boy recently opened up to Complex magazine about his rift with Interscope Records. The colorful rapper blames the label for the poor sales of his most recent album, which were so bad he almost considered quitting rap
According to SB, his biggest complaint was how it was handled in general. During the interview, the 20 year-old rap star pointed out the huge lag, more than five months, between his first and most successful single "Pretty Boy Swag" which hit clubs hard last summer, and the release date of his album, DeAndre Way [November 30, 2010]. 
"Honestly, I felt like that was one of the best albums of my career," SB told Complex. "But when the sales came, I just felt like that reflected something that was going on personally in my life. A lot of people don't know that 'Pretty Boy Swag' went platinum and it was a Billboard Top 10 hit. I felt like I should have dropped my album at the peak of 'Pretty Boy Swag...' I wanted to release my album on my birthday. But when you're signed to a label like Interscope, they've got a million other artist dropping albums. If I could, I would go in there and say, 'Hey, I need to ship a million copies on my birthday, July 28.' I've got hit singles and platinum albums, but I can't demand what day they put my album in stores... the label only shipped like 18,000 copies [of the album]. So I wasn't able to do gold first week or even 100k, none of that. They only put like 8,000 units in Best Buy. It was crazy." 
SB indicated that the failing relationship with mentor Mr. Collipark, the hip hop producer and president of Collipark Records that originally discovered the then 17 year old rap rookie, may have been to blame as well.
"Collipark, he was like my mentor," explained Soulja Boy. "But I'm going to be honest with you, if you look at Collipark's artists he had Ying Yang Twins and Hurricane Chris. When I first started it was Soulja Boy and Collipark. But after my label Stacks on Deck Money Gang Records was established and I started making all these different moves, I started to become a businessman. My label was taking off and I guess I was putting more time and energy into that than to Collipark. He wasn't feeling that and it just went left. He wanted me to be all for Collipark. So during the third album, I didn't have him there to be able to tell the label to ship 500,000 the first week, or put the single on the radio, or we need this song. So I was basically out there by myself, just hoping the label will do the best they can." 
Soulja also shared that his other mentor, rapper 50 Cent, is one of the only people that kept him from quitting the rap game altogether.
"[50] was like, 'You've got to keep doing what you're doing," he said. "You're Soulja Boy, you're here for a reason. Everybody's not going platinum. Everybody didn't do what you did. Everybody didn't come in on the Internet. You're the one that started the Internet. You're the one that got me on the Internet. You're the one that got us on blogs, on YouTube, and on Twitter.' I was like, 'Man, you know what? You're right.' He wasn't doing nothing but speaking true knowledge to my head and it got me right back in the studio. So I ain't going to never quit. I'm going to stay in this music industry. I'm going to stay making hits, and I'm going to do what I've got to do, and I thank 50. I really needed that at that time." 
Having recalibrating his career focus, the S.O.D. Money Gang leader recently released a new mixtape entitled Juice, inspired by the 1992 film of the same name and starring Tupac Shakur and Omar Epps. The optimistic rapper is now down in Atlanta filming a mini-movie with music video producer Rage, based off the hip hop classic film.
(Photo: Robb Cohen/Retna Ltd.)