Video Of Black Cop Punching Disorderly White Woman After She Slaps Him Sparks Debate On Police Brutality
Many say although she should have not assaulted the officer, he may face consequences.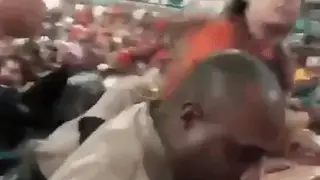 Video of a 30-year-old woman at a University of Miami football game sparked much controversy after a police officer was seen punching the woman. 
The woman, identified as nurse Bridget Freitas, faces disorderly conduct and battery charges for slapping one of the Miami-Dade police officers tasked with removing her from the Hard Rock Stadium, reported the Sun-Sentinel.
According to an arrest affidavit, Freitas was "arguing with stadium patrons and using profanity in a loud boisterous manner."
"Several attempts were made to calm [her] down and walk [her] up the stairwell of the stadium bowl," police told the Sun-Sentinel. However, when she refused to comply, additional officers were called. 
Four officers began carrying Freitas, who swung her arms and hit an officer, who retaliated

The arrest affidavit said Freitas hit the officer "in the face while attempting to get away, causing the detective to strike Freitas in he face to gain compliance and control."

"Supervisory personnel are aware of the video and are reviewing the incident to ensure compliance with our policies and procedures," Miami-Dade police said in a statement issued Sunday.

"Promoting a safe and secure environment during any special event is our primary concern," police said.

The video quickly received many comments from people saying Freitas should not have assaulted the officer

However, some believed the officer may face consequences for the punch