9-Year-Old Alabama Girl Kills Herself After Racist Bullying From Classmates
McKenzie Adams' parents say students told her, "you're black, you're ugly. You should just die."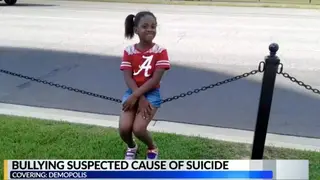 An Alabama family is mourning the tragic loss of a Black 9-year-old girl who committed suicide after racist bullies at school repeatedly taunted her.
According to Adams' family, the fourth-grader experienced bullying every day at US Jones Elementary School since the school year began. Her family believes McKenzie was taunted because she had a friendship with a white classmate, whose family gave her rides to school in the morning.
Her aunt, Eddwina Harris, told Tuscaloosa News that the bullies would tell McKenzie that she should kill herself.
"She was being bullied the entire school year, with words such as 'kill yourself,' 'you think you're white because you ride with that white boy,' 'you ugly,' 'black b—h,' 'just die,'" Harris told the newspaper.
Jasmine Adams, McKenzie's mother, the 9-year-old told teachers and her assistant principal she was being bullied.
"She told me that this one particular child was writing her nasty notes in class.  It was just things you wouldn't think a 9-year-old should know. And my baby to tell me some of the things they had said to her I was like where are they learning this from," Adams told CBS 42.
"Part of it could have been because she rode to school with a white family.  And a lot of it was race, some of the student bullies would say to her why you riding with white people your black, your ugly.  You should just die," Adams added.
Alex Brasswell, the City Schools attorney, said the case is under investigation.
"We are working fully with the Demopolis and Linden police department.  They are doing a joint investigation of these allegations. We are cooperating fully and I can't comment on any of the aspects of the investigation until they conclude it," Brasswell said.
Jasmine is upset the school system didn't do more to protect her daughter.
"I just felt that our trust was in them that they would do the right thing," Adams told CBS42, "And it feels like to me it wasn't it wasn't done".