Meek Mill Says Snoop Dogg Has Inspired Him To 'Stop Smoking'
The Philly rapper says it's "too risky to play with my mental."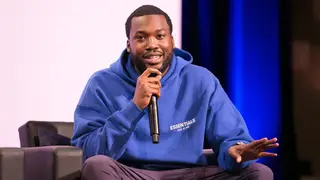 Snoop Dogg was the talk of social media late last week when he announced he was giving up smoking marijuana. It made many of his fans or just folks in general wondering, in a sense, "if he can do it, maybe so could I?"
That's sort of what Meek Mill pondered in the aftermath. The Philly rapper took to Twitter on Thursday (November 16) and provided his thoughts about giving up the trees.
"Ima wuit [sic] once I go cold in Dubai," he captioned a tweet featuring a screenshot of Snoop's announcement. "Snoop start the no smoking challenge we gone follow up! It's not healthy for me!"
In a follow-up post, Meek revealed that he was going to follow Snoop's guidance because his doctor told him that he has "a lil bit [of] emphysema" and that smoking cuts his "lifeline in half."
"I was addicted to the nicotine and this new weed got too many chemicals and too risky to play with my mental," he added.
This is just the most recent revelation Meek Mill has made about substance abuse. Last month, during an Apple Music interview alongside his Too Good to Be True collaborator, Rick Ross, he reflected on giving up lean after realizing it was affecting his health and ability to work.