2022 Holiday Gift Guide: For The Woke Brother Man Or Sister Girl In Your Life!
We compiled a list of Black-owned brands that celebrate our greatness!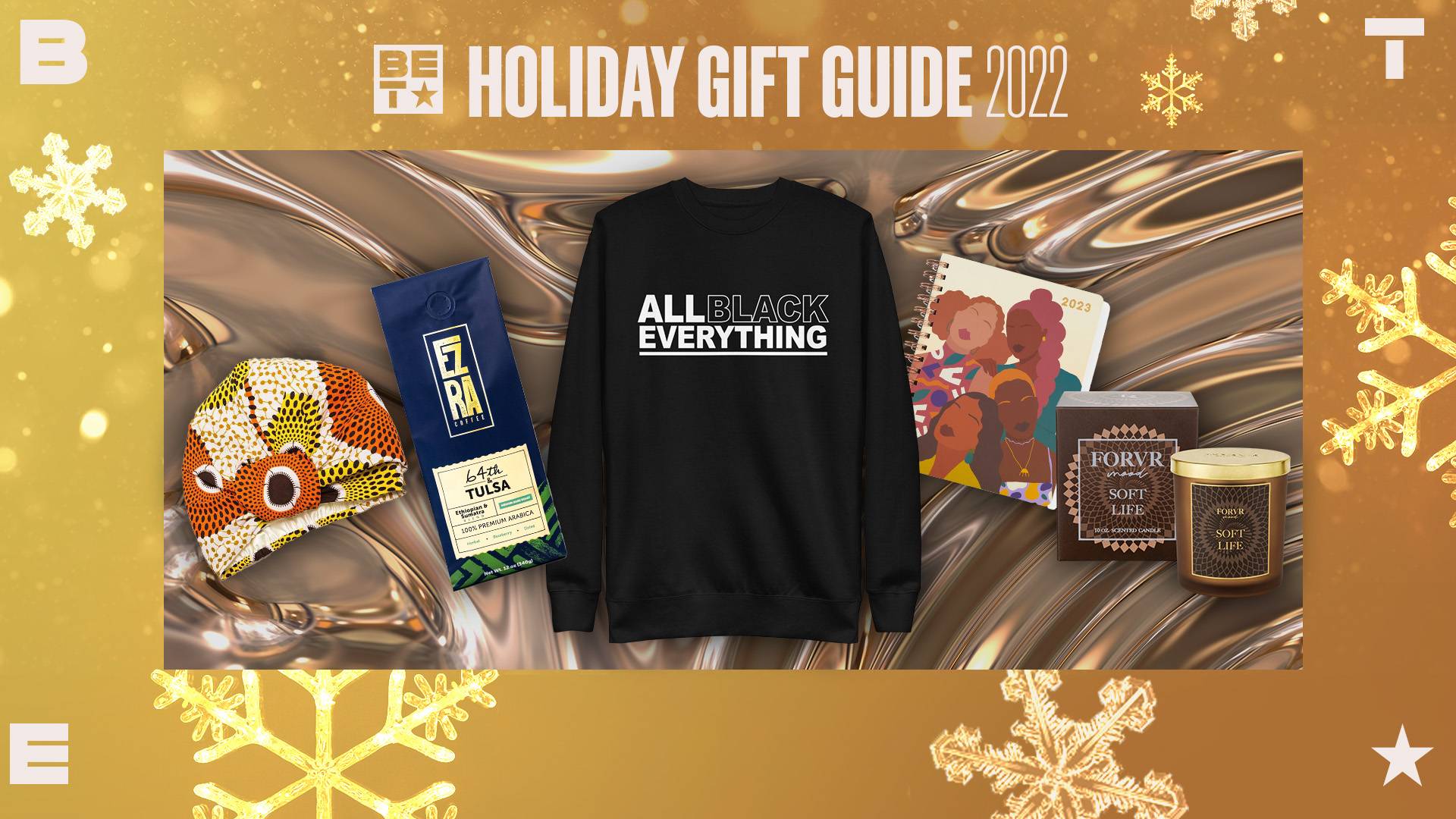 We are officially at the height of the holiday season! As shopping pandemonium begins to rise, so do the anxiety levels. In hopes of lessening your stress during this hectic time of the year, BET.com offers our 2022 Holiday Gift Guide to help you fulfill the gift items your family and close friends not only will want, but will love. From the "Rich Auntie" who has it all to that dude who hasn't QUITE made boyfriend status, we have you covered.
Keep scrolling to see the gifts from Black-owned brands that'll help your friends proudly celebrating their Blackness all year long!
Grace Eleyae Kemi Print Turban, $37

Rule #1: Always protect your crown! This holiday season, gift your loved one this colorful satin-lined turban, which is designed to help wearers avoid bedhead and reduce friction that can damage hair. As an added bonus, the turban also helps retain moisture, combat frizz, and distribute hair's natural oils.

FYI: Grace Eleyae is a Black-owned brand that puts hair care at the forefront of all their hat designs.

Ezra Coffee Co. 64th & Tulsa Blend, $19

Help your crew start their morning steeped in greatness with a cup of black coffee that honors those who fought for our freedom. This medium-dark roast—featuring coffee beans grown in Ethiopia and Sumatran—pays homage to the significance of Black Wall Street in the Greenwood neighborhood of Tulsa and the Presidential signing of the Civil Rights Act in 1964.

FYI: Ezra Coffee Co. is Black-owned coffee brand that honors our legacy with the name of their delicious blends.

Be Rooted 2023 'Everything Is Possible' Weekly/Monthly Planner, $22

Success starts with getting organized! In 2023, help your sista friend to lay out her plans, secure her deals, and lock in her coins with this weekly/monthly planner that serves as an everyday reminder that 'Everything Is Possible.'

FYI: Be Rooted is a Black-owned lifestyle brand designed to celebrate women of color through products that feature inspirational quotes and beautiful artwork in our likeness.

All Black Everything Unisex Crewneck Pullover, $55

When representing the culture, do it with style! Anyone on your holiday shopping list will appreciate this everyday crewneck pullover. "All Black Everything" is more than just a tagline; it's a way of life.

FYI: Within a year, All Black Everything Pop-Up has assisted over 100 Black-owned businesses in connecting with new clients on Instagram.

Forvr Mood Soft Life Candle, $38

We predict 2023 will be all about living the soft life. Give your friend a head start with Forvr Mood's highly-sought after candle that features the aromatic scent of cinnamon, buttercream vanilla icing, nutmeg, and clove. It's just what they need to relax and unwind after a day of greatness!

FYI: Forvr Mood is a luxury self-care brand created by Jackie Aina.