'Candyman' Makes History For Black Women Directors
The film exceeded what the industry predicted was possible.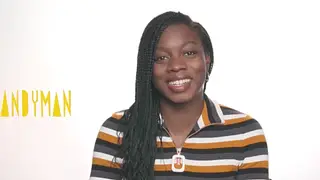 Candyman was a huge success in its opening weekend, landing in the top spot in the U.S. market after grossing an estimated $22.3 million, IndieWire reported, making Nia DaCosta the first Black woman director to debut at No.1.
This is an historic milestone that two other Black women came close to achieving.
Ava DuVernay opened in second place with Selma and A Wrinkle in Time, as did Gina Prince-Blythewood with Love and Basketball.
The film industry predicted that the 1992 remake would debut at about $15 million, Variety reported, as concerns about the resurgence of COVID-19 among moviegoers dampened expectations.
Candyman's appeal to a diverse audience was part of the reason for the big box office win.
With a Black creative team, which included producer Jordan Peele, behind the reboot, the movie was expected to draw a large Black audience.
However, the film attracted much wider viewership: 30 percent of the viewers were white, 22 percent Latino, and 5 percent Asian.