Study: Black-Owned Homes Appreciated Faster Than Other Races During Pandemic
The racial home value gap is shrinking but remains wide.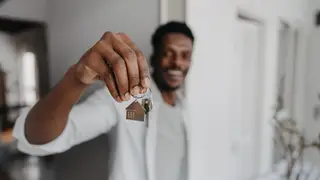 Black home values increased faster than home values overall during the COVID-19 pandemic, helping to boost Black household wealth, according to a new analysis by Zillow, a real estate marketplace company.
"Black homeowners not only saw large increases in their equity over the pandemic, they saw the highest appreciation in home values out of all race groups," Zillow senior economist Nicole Bachaud wrote.
Black home values reached 21.1 percent annual appreciation compared to 19.1 percent of overall home values in the summer of 2021, which marked the high point of the housing market frenzy, according to Zillow's analysis of data from the Home Mortgage Disclosure Act.
From pre-pandemic to January 2023, Black home values appreciated 42.5 percent, compared to 38.2 percent for overall home values and 37.8 percent for white home values. That amounts to an increase of nearly $84,000 in equity for the average Black homeowner.
However, Black homeowners have a long way to go to close the racial home value gap. There's a $30,000 home equity difference between Black heads of households under age 35, compared to their white counterparts, according to the U.S. Treasury. By age 55, the gap widens to $175,000.
The good news is that the disparity is trending in the right direction. Zillow's research shows that the racial home value gap began shrinking in 2014 when the housing market started to recover from the Great Recession and continued through the pandemic.
Geographically, cities around the midwest region saw the largest improvements in the Black home value gap, with Detroit topping the list at a 9 percent increase since February 2020. The Motor City was followed by Kansas City, Mo., Chicago, Cleveland and Milwaukee, all with at least a 5 percent increase.
Since 2020, homeowners have gained more than $6 trillion in housing wealth, according to The New York Times. Most of that windfall stems from the short supply and high demand for housing across the nation.
As a source of generational wealth, homeownership has largely eluded Black Americans over the decades, a recent analysis from Apartment List, a rental-listing platform, found. Black homeownership increased from 40.8 percent in 2016 to 44 percent today but still below the 45 percent rate in 1980.
Redlining is the discriminatory practice of systematically preventing people from buying homes in certain areas, based on their race, ethnicity or religion. Institutionalized racism in the banking industry also continues to stifle Black homeownership because of a long documented history of discrimination in mortgage lending.